Square Enix announces SaGa Emerald Beyond for Switch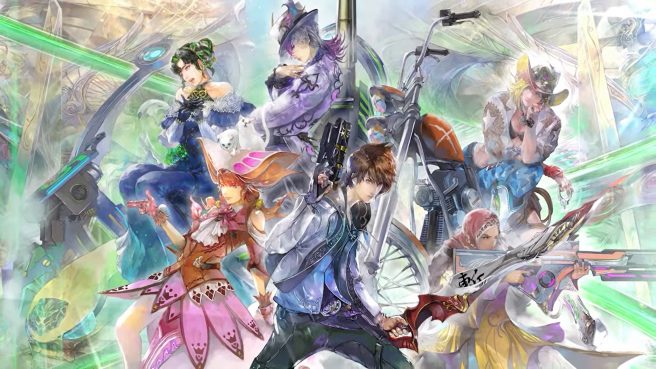 Original (9/14): Square Enix is developing SaGa Emerald Beyond for Switch, the company revealed during today's Nintendo Direct. A release is planned for 2024.
SaGa Emerald Beyond is an all-new original adventure in the RPG franchise with music from series composer Kenji Ito and artwork from illustrator Satoshi Kuramochi, The game "brings together the core combat and free-form scenario elements of the beloved RPG franchise to deliver the ultimate SaGa experience to fans and newcomers alike."
Here's a bunch of additional details:
The new trailer showcases SaGa Emerald Beyond's eclectic cast of heroes from vastly different worlds, with five distinct and dramatic stories to experience. Players will select any of the six protagonists to begin their story with, and guided by mysterious emerald waves, will explore 17 strikingly beautiful worlds where you can meet a diverse cast of races, including monsters, mechs, and vampires, forging their own story. SaGa Emerald Beyond expands on the free-form scenario system the SaGa franchise is renowned for, offering the player the greatest amount of freedom to shape their own story to date, with each tale branching outwards based on their choices and actions. The trailer also showcases the game's strategic turn-based combat system in motion, offering the best iteration of the SaGa franchise's combat.

Players can choose to begin their story as one of the following protagonists. Each possesses the rare ability to see emerald waves that present choices of their destinies:

Tsunanori Mido – A man who can manipulate kugutsu, or animated puppets, which protect the barrier around his home, Miyako City. When the city is plagued by all kinds of supernatural phenomena, Tsunanori embarks on a journey to other worlds to find four elemental spirits in order to restore order to the spiritual realm.

Ameya – A witch-in-training who visits Miyako City and lives in secret as a schoolgirl as a part of her graduation exam. After Ameya is attacked by an unknown man, she loses practically all of her magical power and must find a way to regain what was lost and pass her final exam.

Siugnas – An immortal vampire who rules over Yomi, a world shrouded in darkness, as the Dismal King. However, after being betrayed and driven from his throne, Siugnas finds himself in Brighthome—the gathering place of dead warriors—and must set out on a journey to recover his powers alongside the other warriors in his squadron.

Diva No.5 – A songstress mech designed to sing and dance from the world of Avalon. After singing a forbidden song, however, Diva's memory and singing functionality are sealed away, causing her to lose her livelihood and music itself. In her despair, Diva discards her "human" body and, going with the flow, accepts an invitation from a secret society, leaving Avalon behind.

Bonnie and Formina – Two new recruits and partners on the Capitol City police force who are investigating an assassination attempt on the President. With a key person of interest's claim that the president is a traitor and a mysterious triangle piece as their only clues, they set off on a journey through other worlds to uncover the hidden truth behind the incident.
Continue on below for a first look at SaGa Emerald Beyond from today's Nintendo Direct.
Nintendo Direct Footage
---
Update (9/20): Another trailer has been released, which we have below.
Announcement Trailer
Leave a Reply