Star Hunter DX and Space Moth: Lunar Edition coming to Switch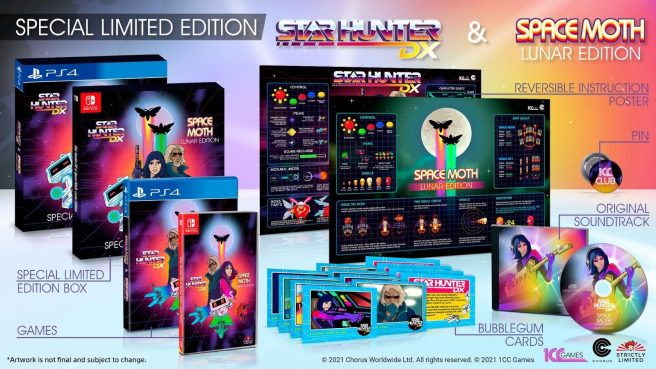 Strictly Limited Games, in partnership with 1CC and publisher Chorus Worldwide, are putting the shoot 'em up games Star Hunter DX and Space Moth: Lunar Edition on Switch.
Both titles will be releasing on the eShop soon. Additionally, Strictly Limited Games is offering pre-orders for boxed versions, including a limited edition and a special limited edition.
Here's everything you need to know about Star Hunter DX and Space Moth: Lunar Edition as well as trailers for both titles:
Combining full Shoot 'Em Up power!

These two games combine a truly outstanding, pixel-art style and a real challenging Bullet Hell experience for newcomers and pros to the genre. Shoot 'em Up fans will get their money's worth with this July pre-order!

Star Hunter DX

Star Hunter DX is an old school shooter for the modern times. It perfectly combines the gaming experience of classic arcade Shoot 'em Ups with a modern pixel-art style and awesome 80s cartoon character designs. Choose from three different pilots and conquer the cosmos by dodging bullets and using "Bullet Time" to stand up to even the strongest enemy. Fans can look forward to a genre representative with a lot of nice features:

Crisp pixel art

3 different pilots (Luna, Edgar, CAT-99) each with an own way of fighting

5 worlds and 6 bosses to master

Over 50 unique enemy types

Power up your special attack and enter "Bullet Time" to slow down your opponents

Challenging like original arcade games

But still beginner-friendly thanks to an extensive practice mode

Character select

Space Moth: Lunar Edition

To give fans the ultimate Bullet Hell experience, Space Moth: Lunar Edition is also included in this duo of excellent arcade style Shoot 'em Ups. As Space Moth, the player has to face a variety of giant and angry laser insects in order to escape the Earth and blast away into space.

Easy to control

Free remap of the setup

A superior electronic soundtrack

Colorful and bright pixel art

Space Moth: Lunar Edition is the updated Version of 1CC's vertical arcade shoot 'em up Space Moth DX, which was released for PC back in 2016. The core elements are reworked for a brand new intense gameplay experience – coming for Nintendo Switch!
You can pre-order the physical versions of Star Hunter DX and Space Moth: Lunar Edition from Strictly Limited Games here.
Source: Strictly Limited Games PR
Leave a Reply