Star Trek Prodigy: Supernova gets first details and trailer, release date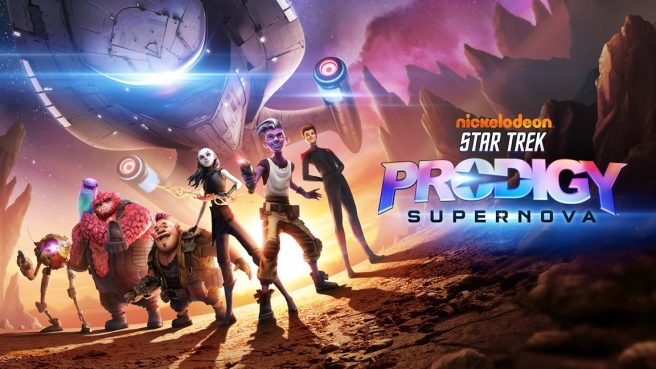 Star Trek Prodigy: Supernova was revealed for Switch last month, but we didn't have much in the way of details. Publisher Outright Games and developer Tessera Studio followed up today with a proper announcement.
Star Trek Prodigy: Supernova is based on the original Paramount+ animated series Star Trek: Prodigy. Find the first details below.
After the U.S.S. Protostar picks up strange readings from a dying star, Dal and Gwyn must race against time to save their friends, their ship, and an entire planetary system before a supernova destroys them all! Using their unique skills to overcome ingenious puzzles, endure hostile environments and battle deadly robot armies, Dal and Gwyn must save their captured crewmates Jankom Pog, Rok-Tahk, Zero and Murf. But they soon encounter a deadly new enemy, one that will stop at nothing to destroy the U.S.S. Protostar and change the very course of history!

Key Features
– JOIN STARFLEET – Play as Dal and Gwyn as they rescue their scattered crew. Play solo or in 2-player cooperative mode in this exciting action-adventure game.
– GO BOLDLY – Explore the alien worlds of Orisi, Mirios and Taresse, each with its own hostile environments, puzzles, challenges and mysteries.
– MAKE FIRST CONTACT – Make first contact with new alien species, learn about their history and discover their secrets.
– CUSTOMIZE THE U.S.S. PROTOSTAR – Collect iconic items from the Star Trek universe and use them to customize the Protostar.
Terry Malham, CEO of Outright Games, said of today's news:
"We are absolutely thrilled to work again with Paramount Consumer Products and Nickelodeon as the publisher that will bring this game to the Next Generation of Star Trek fans. Having the opportunity to work with an IP as iconic as Star Trek is a massive privilege, especially considering the glowing reception the Star Trek: Prodigy series has received. We're sure that Star Trek Prodigy: Supernova will give young players a great first taste of the expansive Star Trek universe, and older fans will enjoy exploring this latest interactive installment of the franchise."
The first trailer for Star Trek Prodigy: Supernova can be found below.
Star Trek Prodigy: Supernova will arrive physically and digitally for Switch this October. Pricing is set at $39.99 / £34.99 / €39.99.
Leave a Reply