Stardew Valley physical version revealed for the west, including collector's edition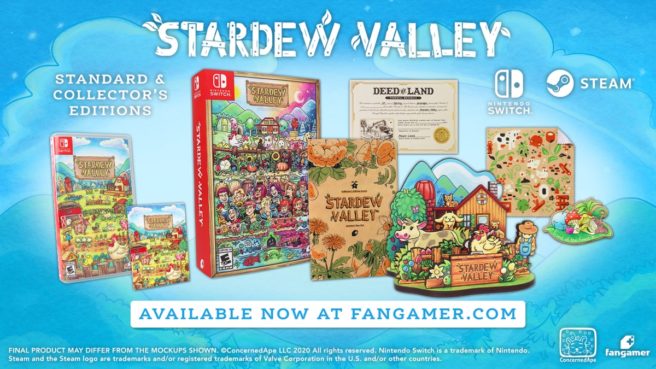 ConcernedApe has partnered with Fangamer on a physical version of Stardew Valley for the west. Fans can purchase a standard copy or collector's edition.
If you go with the collector's edition, you'll receive the following goodies:
– Deluxe six-piece wooden standee made from responsibly sourced birch and cherry wood (measures 4.5 x 4 x 4 inches; some assembly required).
– Wooden lapel pin made from the same eco-friendly wood as the standee
– 14-page Junimo comic by Chihiro Sakaida, the artist of the Before the Farmer comic
– Deed to your farm featuring gold-foil details on paper made from 30% recycled straw (a byproduct of actual farming!)
– Collector's Edition box made from sturdy, high-quality materials featuring artwork by Kari Fry, the artist behind the Stardew Valley Guidebook
– Physical copy of the game on your choice of platform with 18-page, full-color illustrated instruction manual and double-sided cover with Joja theme on the inside
– Soft polyester-nylon blend cleaning cloth designed by Chihiro Sakaida
– For a limited time: Bonus poster for preorders until August 15th (measures 10″ by 16″, folded)
You can pre-order Stardew Valley from Fangamer here. Copies are estimated to ship on November 6.
Leave a Reply