SteamWorld Build revealed, coming to Switch in 2023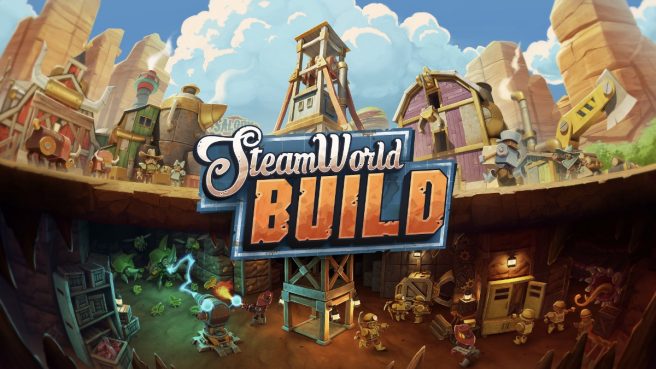 Thunderful today unveiled SteamWorld Build, "a multi-level city-building experience that tasks you with constructing a thriving town above ground, while mining resources and dealing with monsters below." It will debut on Switch later in 2023.
SteamWorld Build is being developed by internal Thunderful studio The Station. Read more about it in the following overview:
In SteamWorld Build, you are the architect of a SteamWorld mining town. Break ground and raise houses for your steambot citizens, keep them fed and provide some rootin'-tootin' entertainment. You'll also venture into the abandoned mine sitting under your town, rumoured to be filled with ancient tech that holds the key to escaping impending doom. Use the natural resources above ground and the abundant ores buried in the mine to expand your town. Stimulate new residential tiers to join the quest to dig deeper, unearth untold riches and ultimately help them to hightail it off the planet!

SteamWorld Build has been developed on PC and console simultaneously, ensuring that the game's design, UX and UI all work just as well with a controller in hand, as they do with mouse and keyboard. The game features a user-friendly interface and mechanics designed to cater to both experienced players and newcomers to the city builder genre, further refined by three difficulty levels to choose from.
Regarding today's announcement, SteamWorld Universe and franchise director Brjánn Sigurgeirsson said: "When The Station joined Thunderful in 2020 and told us that they wanted to make a city builder, we thought it offered a great opportunity for SteamWorld and Thunderful to move into another new genre. They know what it means to work on big IPs thanks to their experience developing for LittleBigPlanet, including crossovers with God of War, Dark Souls and many more. After losing plenty of hours getting sucked into the amazing gameplay loop they've created between overground city-building and underground mining, I can tell you that I'm really proud of what they've managed to do within the SteamWorld universe."
The Station producer Adam Vassee added: "Having the opportunity to work on an award-winning franchise that's loved by fans was a real honor for us. We've put a lot of effort into making sure the game retains the charming character of previous entries, but we're also lucky in that the SteamWorld series is all about trying new things. That's been liberating in allowing us to put our own twist on SteamWorld and the city builder genre to craft an intuitive Anno meets Dungeon Keeper style system that we think is unlike anything else out there."
Watch a trailer for SteamWorld Build below.
Also announced today is that additional news about the SteamWorld series will be shared later this year when SteamWorld Telegraph debuts as a community-focused show. Sigurgeirsson "will be collaborating with all the Thunderful studios developing SteamWorld titles, ensuring quality and consistency across all the games as the series expands in the years ahead."
Those interested in getting a closer look at SteamWorld Build can check out a demo on Steam today.
Leave a Reply