Steven Universe: Save the Light and OK K.O.! Let's Play Heroes confirmed for Switch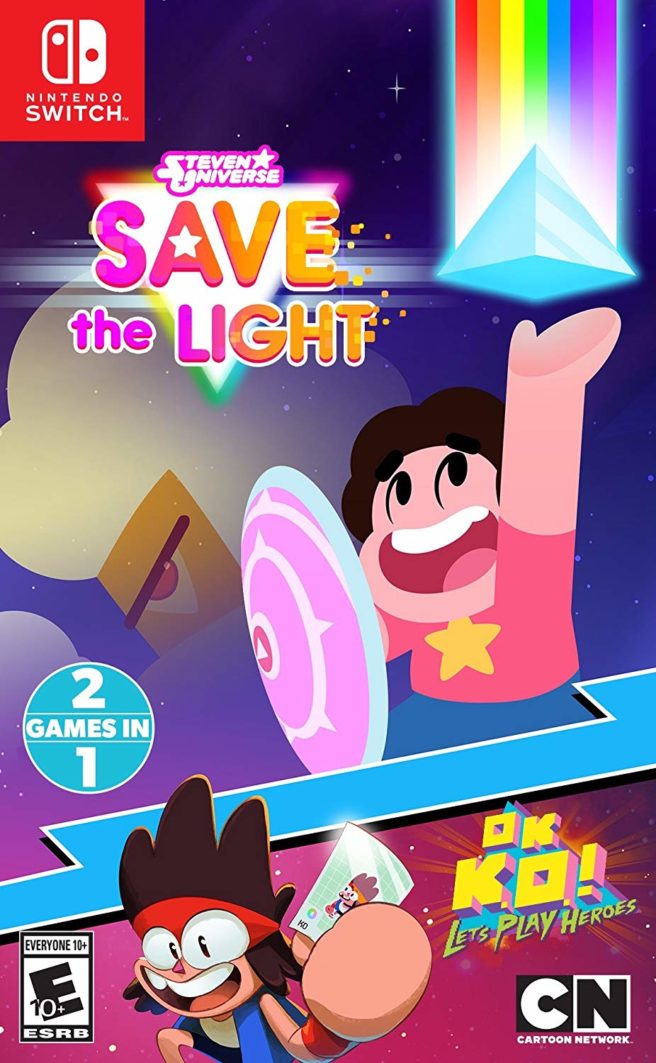 Update: Bumped to the top. Pre-orders are now live on Amazon here.
---
Original: Steven Universe: Save the Light and OK K.O.! Let's Play Heroes have both been rumored for Switch. The two games were listed as a physical bundle on VideoGamesPlus, and the USK had rated them separately not too long ago.
We pretty much knew this was happening, but now it's (essentially) confirmed. Amazon has added in a listing for the bundle, complete with a boxart.
Here's an overview for Steven Universe: Save the Light and OK K.O.! Let's Play Heroes, along with trailers:
Steven Universe: Save the Light

Join the Crystal Gems on the ultimate quest! A mysterious new Gem has stolen a powerful weapon. Only Steven and his friends have what it takes to stop her. "Save the Light" is a unique RPG hybrid that combines real-time and turn-based combat.

7 Playable Characters
Completely customize your party. Fight an army of light as Steven, Garnet, Pearl, Amethyst, Connie, Greg, and Peridot! Bust out unique abilities to solve puzzles and battle the bad guys.

A New Gem
Face off against an all-new Homeworld Gem created by Rebecca Sugar. Who is this powerful warrior and what's she doing back on Earth?

Fusions
Team up for incredible combo moves and Gem Fusions! Fuse to play as Stevonnie, Smoky Quartz, Opal, Sardonyx, and Sugilite!

Beach City and Beyond
Explore and interact with expansive 3D environments. Travel to ancient Gem locations all over the world, including Strawberry Battlefield, The Great North, and Bismuth's Forge.

Original VO
"Save the Light" features an original story co-written by Rebecca Sugar, and voices from the Steven Universe cast and special guest star Christine Baranski.

OK K.O.! Let's Play Heroes

Based on the hit Cartoon Network show, this game stars pint-sized hero K.O. as he punches, slide-kicks, combos and power-moves his way through hordes of evil Boxmore robots on an epic quest to save Lakewood Plaza Turbo from the maniacal Lord Boxman. In this story-driven adventure game meets action-packed cartoon brawler, level up your stats to unlock powerful new fight moves, collect the cards of all your favorite Plaza characters and then call them into battle to unleash off-the-wall attacks across tons of crazy quests.

K.O. Is A-OK!
Go on crushing combo streaks and then literally pick up stats earned in battle to level up K.O. and unlock powerful new fight moves!

Explore Lakewood Plaza Turbo!
Hang out with all your favorite Lakewood Plaza Turbo heroes, get into rollicking brawler battles with invading robots, and go on crazy quests for kooky characters!

Collect Every Pow Card!
Organize and obsess over your collection of Pow Cards. Once unlocked, each card contains a devastating hero-helping attack you can use in battle!

Original Story and VO
Overseen by show creator Ian Jones-Quartey, OK K.O.! Let's Play Heroes features a brand-new original story and voice acting from series regulars!
Pre-orders are not yet live for the Steven Universe & OK KO Bundle. When they are, you'll be able to reserve the package here.
Leave a Reply