Strange Brigade seemingly coming to Switch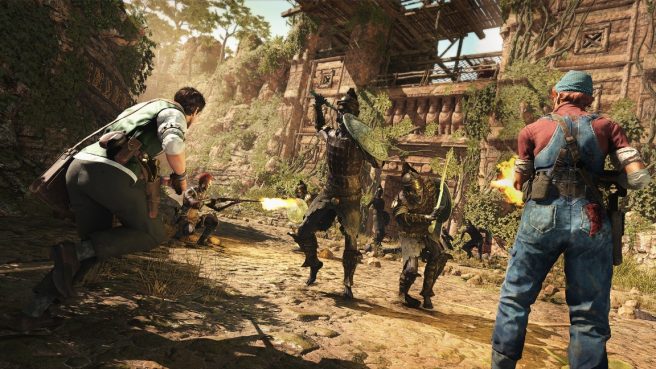 Rebellion has put quite a few games on Switch over the past few years, and it looks like that support is continuing. Although we don't have an official announcement just yet, update data for Strange Brigade has now appeared on Nintendo's servers. This title had not been announced for the platform previously.
As many are aware, Nintendo will air a new Nintendo Direct tomorrow. It's possible that we'll hear about Strange Brigade on Switch in an official capacity then.
Here's an overview of Strange Brigade, along with a trailer:
WILL YOU ANSWER THE CALL TO ADVENTURE?
Egypt, 1930's. Erased from ancient history and buried in a nameless tomb for 4,000 years, Seteki the Witch Queen has risen once again.

Only one troop of daring heroes can stand against the fearsome power of Seteki and her army of mummified monstrosities: The Strange Brigade!

Explore remarkable ruins, solve perilous puzzles and uncover tantalising treasure while blasting your way through an array of undead enemies in thrilling third-person action that's certain to bring out your inner adventurer!

ONE GRIPPING ADVENTURE
Hunt the foul Seteki through a rip-roaring campaign filled with dangerous dig sites, prodigious pyramids and crumbling caves packed with bountiful foes to send back to the afterlife. Explore alone or team up in 2-4 player online co-op!

FOUR FEARLESS FORTUNE HUNTERS
Travel the ancient world as one of four dashing agents trained to tackle the supernatural. Unleash devastating magical powers and unload powerful prototype weapons such as the fire-spitting Krakatoa, the ice cold Chill Burster, and the brain-busting Blunderbuss!

A LEGION OF MALEVOLENT MONSTERS
Seteki is not the only mythological menace to have awoken … she's brought an army of loyal beasts with her! Face her many nefarious ne'er-do-wells, including moaning mummies, fire-breathing assassins, armour-plated minotaurs, giant scorpions and much, much worse!

TONS OF TERRIFYING TRAPS
Keep an eye on your environment to find creative ways to boff your enemies! Decapitate the undead with spinning blades, fry them to a crisp with fire traps, crush them with a well-placed boulder and more. You wouldn't set them on your team mates … would you?

OODLES OF PUZZLING PREDICAMENTS
Keep those peepers peeled for suspicious clues, secret entrances and ancient contraptions that need re-awakening! Who knows what alluring treasures and buried riches await you on the other side…

MESMERISING MODES
Challenge yourself in two extra modes for 1-4 players. Try the fast-paced Score Attack where speed meets style, or take on wave after wave of deadly foes in the action-packed Horde mode!
Leave a Reply