Strictly Limited Games releasing Darius Cozmic Collection in the west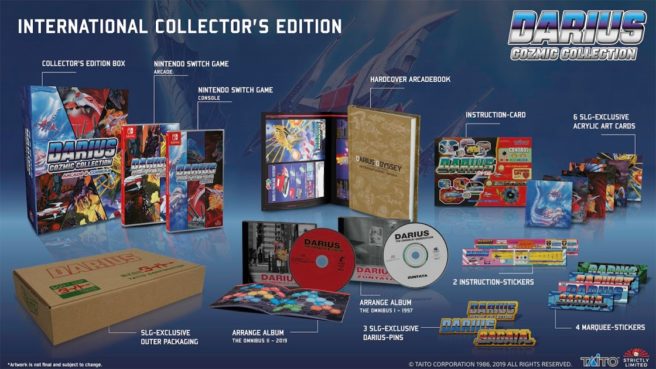 Strictly Limited Games is turning two years old in November. To celebrate that milestone, the company has announced limited editions of Darius Cozmic Collection for the west.
For €39.99, fans can purchase the Darius Cozmic Collection Arcade. The package includes four different arcade titles in seven versions, as well as an exclusive Darius enamel pin badge. Only 2,500 units will be produced on Switch.
Net up is the Darius Cozmic Collection Console, priced at €54.99. It features six legendary console titles, in a total of nine versions, as well as an exclusive Sagaia enamel pin badge. Once again, there will only be 2,500 copies available.
Lastly is the Darius Cozmic Collection International Collector's Edition. Limited to 1,500 units on Switch and priced at €139.99, it contains the following exclusive fan items from the Darius universe in the English version:
– Two Arrange Soundtrack Albums, Omnibus I – Generation from 1997 of TAITO's legendary "House Band" Zuntata and Omnibus II – Union of 2019
– Hardcover Arcadebook
– Six SLG-exclusive Acrylic Art Cards
– Four stylish marquee stickers
– Darius Gaiden Instruction Card
– Two instruction stickers
– Three SLG-exclusive enamel pin badges
– SLG Collector's Box with magnetic closure
– SLG-exclusive Retro Arcade PCB Cardboard
You'll be able to pre-order the different versions of Darius Cozmic Collection from Strictly Limited Games' website starting November 24 here.
Source: Strictly Limited Games PR
Leave a Reply