Stylish platformer Gris reaching Switch in December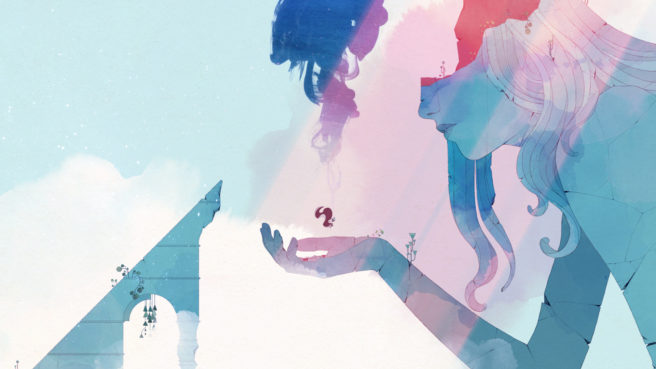 Devolver Digital and Nomada Studio have pulled back the curtain on a new 2D platformer in the works for Switch. In December, Gris will be coming to the console.
Here's what we know:
– Set in a dream-like world filled with crumbling statues, towering temples and inky, shape-shifting birds. Even the trees
– Topped with luscious foliage that melts between square, triangular and completely invisible states
– The heroine, a hopeful young girl, dashes and floats through the world
– Everything is painted in watercolor shades of pink, blue, red and green
– Relaxing mixture of jumps, puzzles and light exploration
– The various locales are peppered with white glimmering specks that zip around like fireflies
– Pick them up and you'll be able to form pathways that sit in mid-air like star maps
– They're also required to unlock new abilities that manifest through Gris' dress
– One lets you perform a double-jump with a physics-defying glide at the end
– Another allows you to smash open vases and stand firm against strong gusts of wind
– No HUD or on-screen text aside from the odd button prompt when you acquire a new technique
– The camera zooms automatically to frame an environmental puzzle or the floating obstacles you need to overcome next
– Art was created by Catalan artist Conrad Roset
– No health system
– Enemies serve as sporadic puzzles rather than complicated boss battles
– One enemy: giant bird that pushes you around with an ear-piercing screech unless you use ground-pound ability
– Jump in time with the warbler's cries to carry myself across some large gaps
– The game is supposed to be a "smooth experience" that anyone can play
– Some tricky platforming section
– Subtle, dialog-free story about personal loss
– The heroine is exploring "her own world" and trying to deal with a painful experience in her life
– Influences include Journey and Inside
We don't have much footage of Gris in action, but you can see a brief clip shared a couple of years ago to get an idea of what the team is aiming for.
Leave a Reply