Sumo shows early version of Snake Pass, talks about developing the Switch version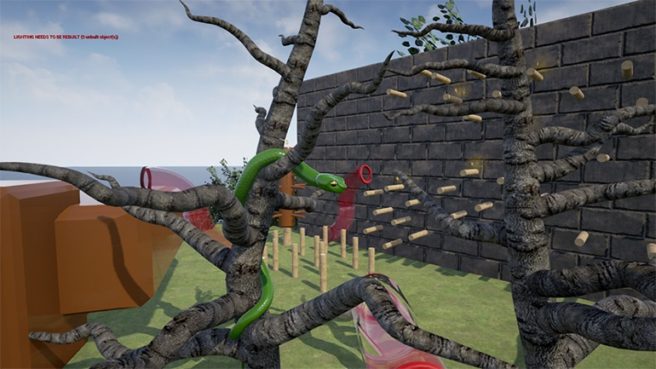 Snake Pass is a significant game on Switch having been the first Unreal Engine 4 title on the platform. On the whole, it stacks up quite well against other versions. Technical director Pete Harrap posted a blog this week that not only offers insight into getting Snake Pass up and running on Switch, but also looks back on overall cross-platform development.
The image attached above is a "super early" look at Snake Pass during an internal game jam. Ultimately, the company decided to move forward with the project after selecting it out of a number of different pitches.
Harrap's post later goes into Switch development specifically. Here's what Snake Pass looked like on the system after just two days:
And the final version:
Harrap later writes the following in his blog:
"While Unreal Engine efficiently handles cross-platform development, when a new platform comes along there is still work to be done to ensure your project is optimised for it. As noted above, new platforms bring new challenges, and not just performance related. Remember, there might be features on a new platform that are not available on the other platforms (like docking the Nintendo Switch controller in this case). One thing Unreal Engine does really well is help get your project over 90% of the way to completion on its own. The remaining optimisation is often down to the code team to figure out and since it's the little things that can trip you up, it's wise to allocate development time to cover them.

In December 2016 came the most impressive part of our experience using Unreal Engine for cross-platform development. That was when we were given the task of getting Snake Pass ready to be a launch window title on Nintendo Switch. "Hold on a minute, it's not a supported platform." was our immediate answer. True, but Nintendo Switch support was in development at Epic so we knew we could pull it off. It was scarily close to the launch window, but Nintendo Switch platform support in Unreal Engine was almost ready and we were confident that we could meet the goal.

To achieve the launch, we worked very closely with key Epic staff, including the NVIDIA GPU specialists. With that kind of help, we were able to get the first working build on Nintendo Switch made in under two days. Over the course of the next few months leading up to the launch, we managed to find all the required optimisations to ensure that platform's unique docked and undocked modes were covered."
You can read up on Harrap's full blog at the source link below.
Leave a Reply