Super Mario 3D World + Bowser's Fury gets first review in Famitsu, full translation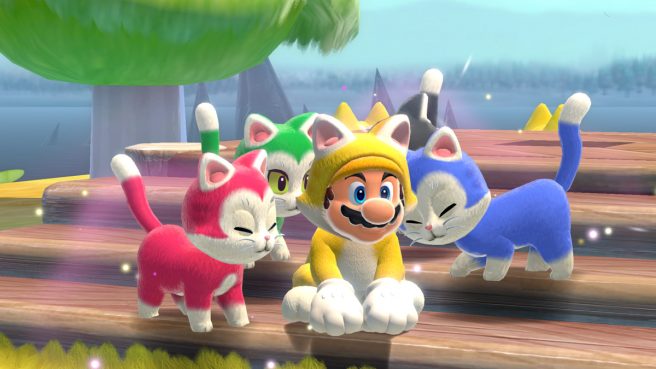 Ahead of its release next week, Famitsu published one of the first reviews for Super Mario 3D World + Bowser's Fury in its latest issue. Four reviewers gave out scores of "9", "9", "8", and "10" for a total of 36 points. The Wii U original earned 38 points, but 36 is nothing to snuff at, and keep in mind that different writers were involved.
In any case, we've gone ahead and translated the entire Famitsu review. You can find it in full below.
Reviewer 1 – 9

When you consider how packed the base game is with content and add a top-quality new mode to boot, this game is tremendous value. You have the luxury of enjoying both a measured solo experience or the chaos that comes with co-op play. It's a thrill to explore the expansive new world of "Bowser Fury" and see giant Bowser in action. Additional features like online support for "3D World" were also a welcome addition.

Reviewer 2 – 9

Super Mario 3D World offers the kind of bustling multiplayer experience you'd expect form a part co-op, part competitive experience and it's great to see online thrown into that mix as well. "Bowser's Fury" is an exciting new adventure that has players exploring brand new islands in the world. The tenseness of a giant Bowser appearing, seeing Mario match his size to take him on in battle… The flow of the game is brilliant. One last thing worthy of note is Bowser Jr – he's helpful, reliable and a great co-op partner to have on your adventure.

Reviewer 3 – 8

I came away very satisfied with the game as a whole. There's not much left to say about "3D World", but it's worth noting out how much there is to experience in "Bowser's Fury". While some islands have you relaxing and enjoying time with cats, throwing a giant Bowser into the mix really spices things up – hats off to whoever thought to play as Bowser during the game. The fights are excellent and remind me of a Kaiju movie with the way the giant monsters fight each other. It's also a surprise how useful Bowser Jr is… once you've changed his AI settings. There's a whole new experience here for players, the combat and exploration on offer are an absolute blast.

Reviewer 4 – 10

I'm thrilled to see "3D World" get online support. Whether you're co-operating with friends, competing against them, or just trying to get in their way, there's a wide variety of multiplayer options for players to enjoy. "Bowser's Fury" is an open world for players to explore that's full of action-packed gameplay and visual spectacles that change up each time Fury Bowser makes an appearance.
Super Mario 3D World + Bowser's Fury is slated for February 12 on Switch.
---
Translation provided by centurionnugget and Jarop on behalf of Nintendo Everything.
If you use any of this translation, please be sure to source Nintendo Everything. Do not copy its full contents.
Leave a Reply