Super Mario Bros. Wonder pre-order bonus guide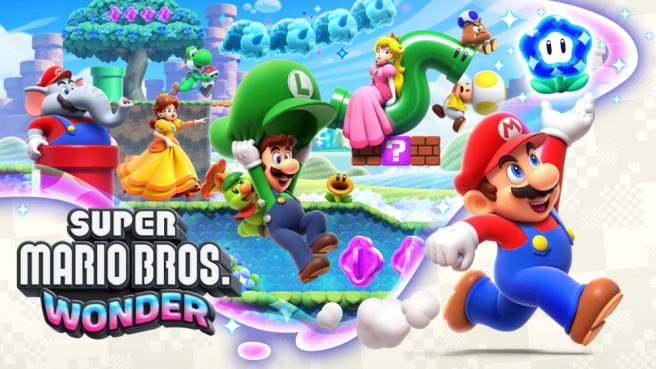 Super Mario Bros. Wonder is expected to be one of Nintendo's biggest Switch games of 2023, and we're putting together a post to keep track of all pre-order details including bonus information. If retailers are planning any offers, we should be hearing about that closer to the official release later in the year.
If we're strictly talking about the brand new side-scrolling games, the Super Mario Bros. series has been missing since New Super Mario Bros. U on Wii U – unless you count the Luigi U DLC or Switch port. It's been described as an "evolution." The hook this time around are Wonder Flowers, which mix things up by changing certain things like having pipes come alive. Also new is the Elephant Mario power-up and the inclusion of Daisy as a playable character.
Amazon
You can pre-order Super Mario Bros. Wonder on Amazon here.
Best Buy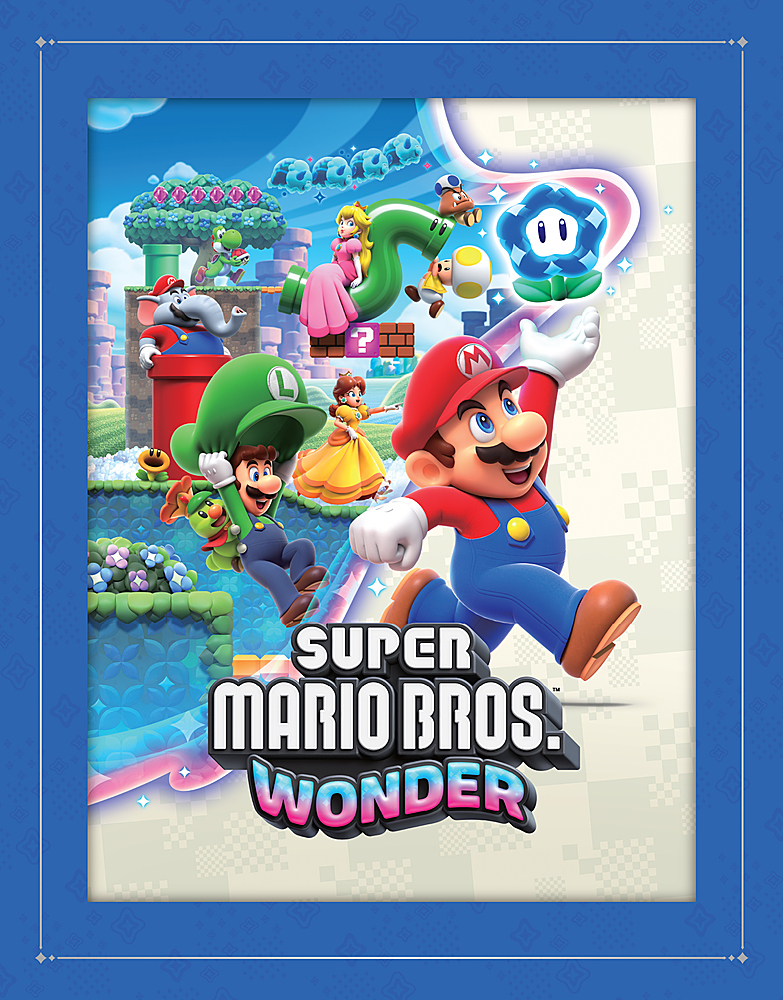 Best Buy has opened pre-orders for the Switch game here, and the retailer is getting into the mix by offering the art print pictured above as a bonus.
GameStop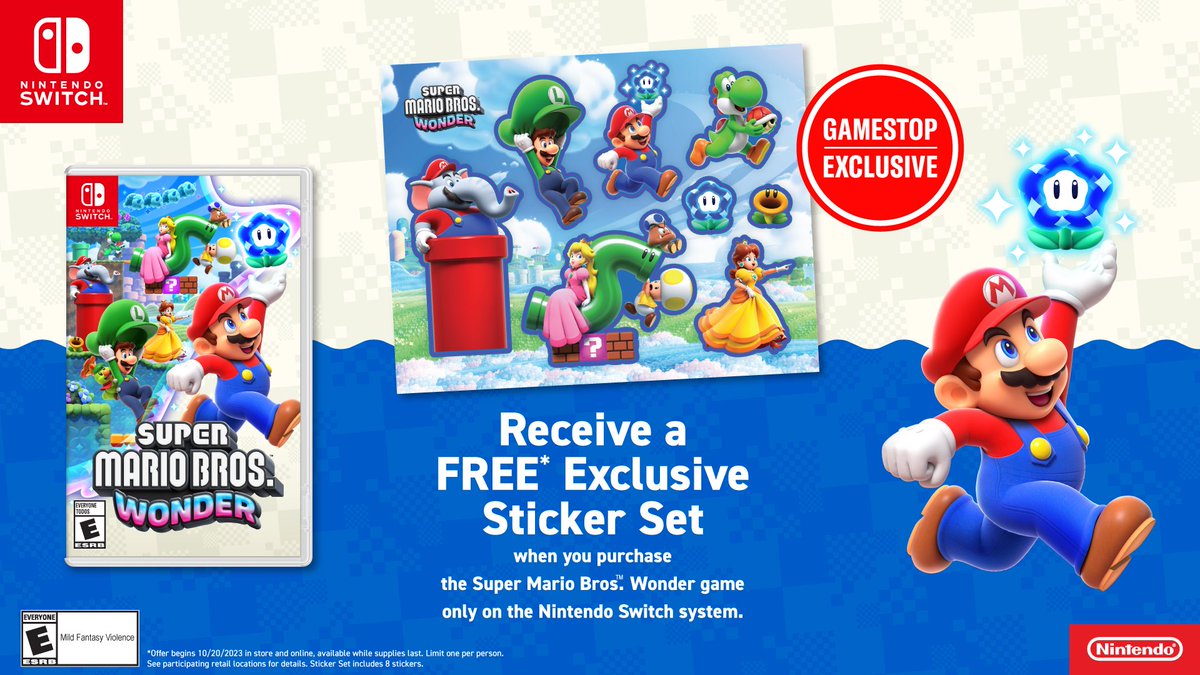 GameStop has revealed a Super Mario Bros. Wonder pre-order bonus, which is the sticker set pictured above. You can reserve the game here.
Walmart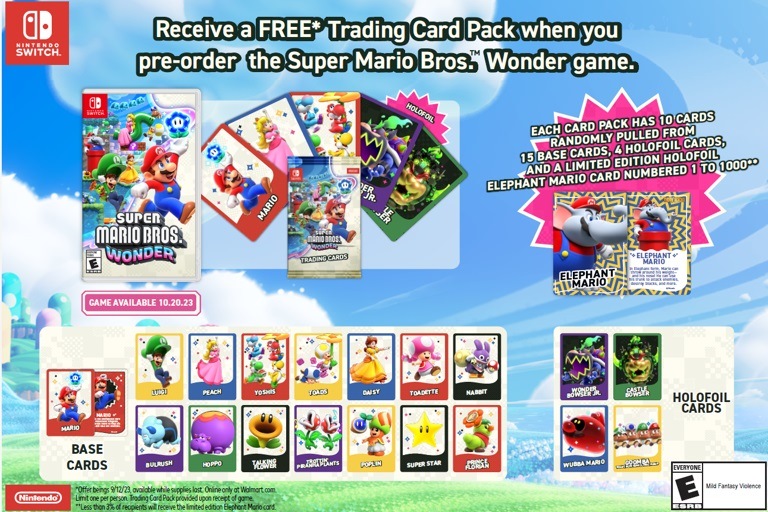 Walmart is taking pre-orders for Super Mario Bros. Wonder here, and as a bonus, you'll get the trading card set pictured above.
Target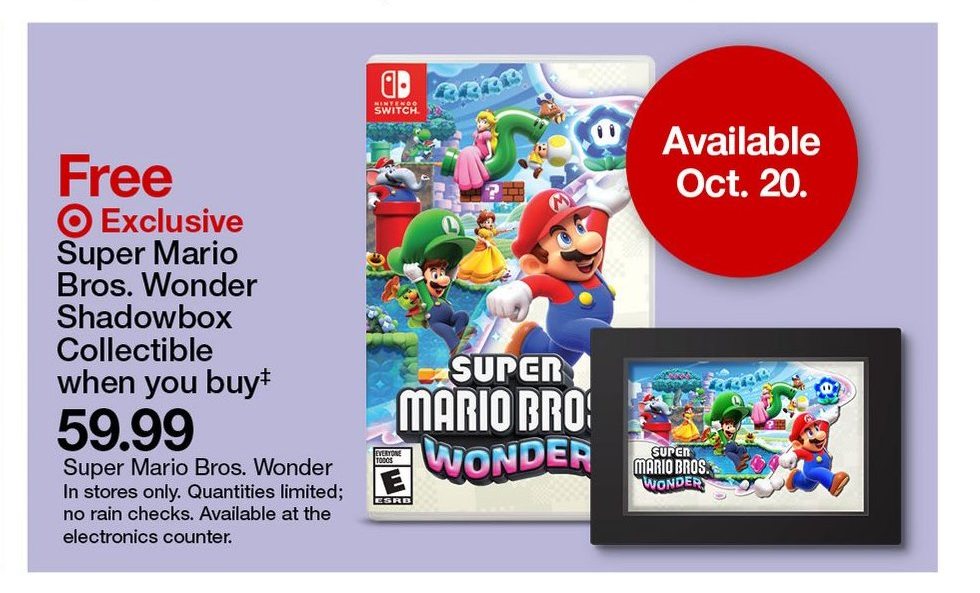 Target is doing on of its usual promotions where it's doing a purchase bonus, and in-stores only. When you pick up the game at launch, you can get a shadowbox collectible.
Amazon Canada
Our friends in Canada can pre-order Super Mario Bros. Wonder here.
Amazon UK
Super Mario Bros. Wonder is up to reserve from Amazon UK here.
My Nintendo Store UK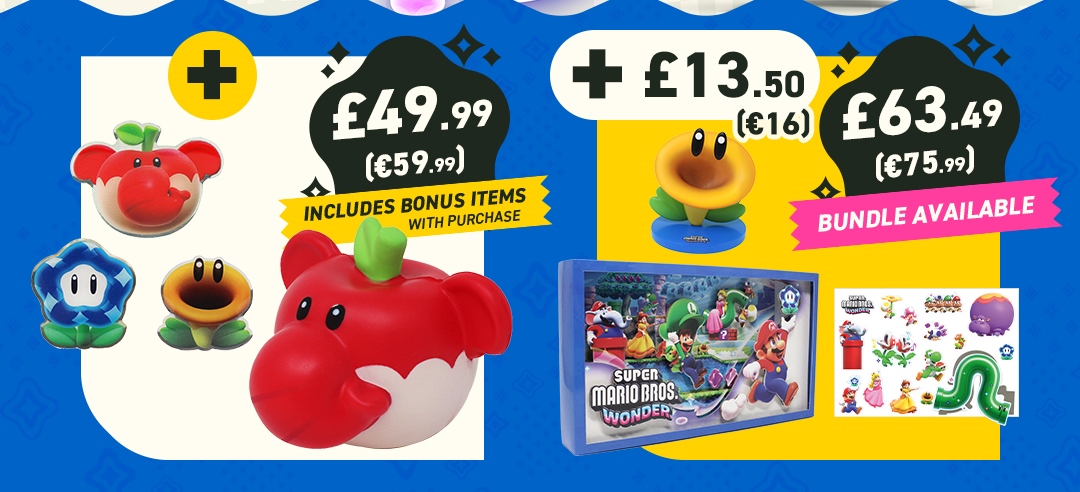 The My Nintendo UK store is accepting reservations here. As a bonus, buyers will be given the Elephant Fruit stress ball and pin set pictured above. Different paid bundles are also available at the included link.
Switch OLED
Ahead of the game's launch, Nintendo is readying a special Switch OLED. Mario-related designs are featured, including the Mario silhouette on the back of the red dock. Plus, on the back of the dock is an illustration of hidden coins. You can pre-order the system at Amazon here.
Super Mario Bros. Wonder release date
Super Mario Bros. Wonder will be available only for Switch on October 20, 2023.
---
Nintendo Everything is a participant in the Amazon, Best Buy, and GameStop affiliate programs. The website may receive a partial commission through orders placed with these retailers.
Leave a Reply