Super Mario event now live in Animal Crossing: Pocket Camp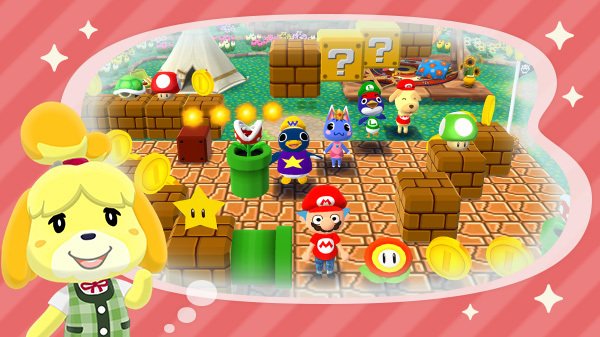 Update: Round 2 is now live for the Super Mario event in Animal Crossing: Pocket Camp.
---
Original: Earlier in the week, Nintendo confirmed the Super Mario crossover event for Animal Crossing: Pocket Camp. This has now gone live.
Here's a full rundown of the event:
During this event, you can get Mushrooms when you complete requests from animals! Collect enough, and you can craft limited-time Super Mario Crossover furniture and clothing! And don't miss out on the Mario rug, which you'll be able to get with Leaf Tickets.

Event Schedule

Round 1: From 3/10/18 at 1 AM PT to 4/10/18 at 12:59 AM PT
Round 1: From 3/21/18 at 1 AM PT to 4/10/18 at 12:59 AM PT
Round 1: From 3/31/18 at 1 AM PT to 4/10/18 at 12:59 AM PT

* There will be more types of Mushrooms available in Round 2 and Round 3, as well as new Timed Goals and new craftable furniture and clothing.

You can also get Leaf Tickets by completing new Timed Goals, so be sure to check 'em out.

Round 1 Furniture

– Coin
– Block
– Super Mushroom
– … any many more!

Round 1 Clothing

– big bro's hat
– big bro's tee
– big bro's mustache

New Craft Material at the Quarry

It's also a great time to visit Shovelstrike Quarry. Right now, you can collect Mushrooms when you mine the quarry! Collect enough and you can craft special Super Mario Crossover furniture.

– This promotion runs during the same time period as the Super Mario Crossover Event.
– You can only get Mushrooms from the quarry when a Mushroom icon is displayed above the quarry on the map.

Notes

– This furniture and clothing cannot be crafted after the event ends.
– Event furniture and clothing that you begin crafting during the event can be collected after the event ends.
– Some of the event furniture requires Leaf Tickets.
– Mario rug can be crafted up to four times during the entire event.
– Limited-time furniture and clothing may become available again in the future.
– You will only e able to clear the Event Challenges and claim your rewards while the event is active.
Note that players can also purchase a Super Mario Pack (Red). These provide Super Mushrooms, which are necessary for crafting limited-time items.
Leave a Reply