Super Mega Baseball 4 announced for Switch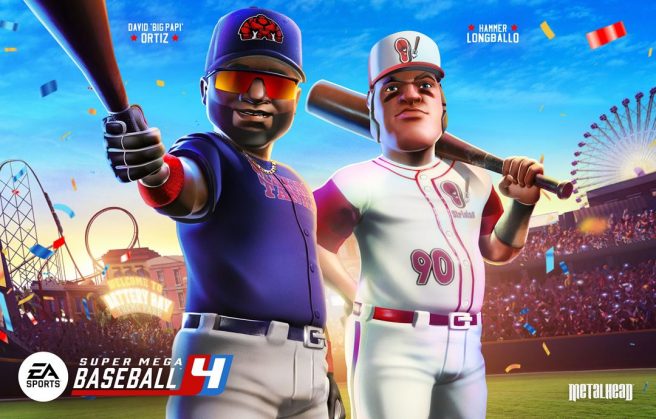 Original (5/2): Publisher EA Sports and developer Metalhead Software today announced Super Mega Baseball 4, the latest entry in the sports series. It will release for Switch on June 2, 2023.
For the first time in the series, fans can play with over 200 larger-than-life legendary baseball professionals like David "Big Papi" Ortiz, Jose Bautista, Babe Ruth, Hank Aaron, and more right alongside Super Mega League All Stars. Ortiz will be the franchise's first ever cover athlete.
Ortiz said of his role with the game: "It's an incredible honor to be the first cover athlete for Super Mega Baseball and to be recognized as a baseball legend in the game alongside hundreds of other icons in our sport for the first time in the series. Super Mega Baseball 4 is going to be an amazing and fun experience for fans that truly captures the humor and personality of baseball."
Here's a rundown of different features planned for the game:
Baseball Legends: Over 200 baseball legends are integrated across Super Mega Baseball 4, alongside beloved Super Mega Baseball characters. Play in a league of baseball legends with teams organized by era, or mix things up with Shuffle Draft, a new feature that allows you to draft both Legends and Super Mega All-Stars to create a unique roster.

New Platforms & Cross-Play: Super Mega Baseball 4 is expanding to PlayStation 5 and Xbox Series X|S for the first time, including all-important cross-play in Pennant Race and Online Leagues on new platforms, as well as PlayStation 4, Xbox One, Nintendo Switch, and PC.

Top Community Requests: From the brand-new Shuffle Draft deckbuilding-inspired feature, to expanded player traits and a new team chemistry system that add a new layer of strategy; dozens of fan requested upgrades – automatic walks and runners, two-way players, expanded bullpens, customizable free agent pools, and more – combine to add new gameplay depth.

Visuals: Experience authentic, cinematic baseball, powered by new cameras, cutscene animations and lighting provides a true-to-life environment in every stadium.

Audio: New crowd, voiceover, and foley audio give audio throughout the game a big upgrade from home plate to the bleachers. Plus, players will be immersed in the sounds of baseball with an all-new soundtrack with licensed and original music.
Senior producer Scott Drader noted of today's announcement: "Our team is really stoked to launch the newest chapter in the Super Mega Baseball series with the power of EA Sports behind us for the first time. Whether you're a longtime SMB player or a new fan looking to play and connect with friends around the love for the sport, Super Mega Baseball 4 has something for everyone. We can't wait for fans to play when the game launches on June 2."
We have a trailer for Super Mega Baseball 4 below.
---
Update (5/11): Legends Deep Dive video has been released, which we have below.
---
Update (5/18): Another Deep Dive video has come in, which we have below.
---
Update (5/26): We have yet another video – specifically "Gameplay On and Off-Field Deep Dive". Give it a look below.
Leave a Reply