Super Smash Bros. Ultimate – Switch vs. Wii U / 3DS graphics comparison and tech analysis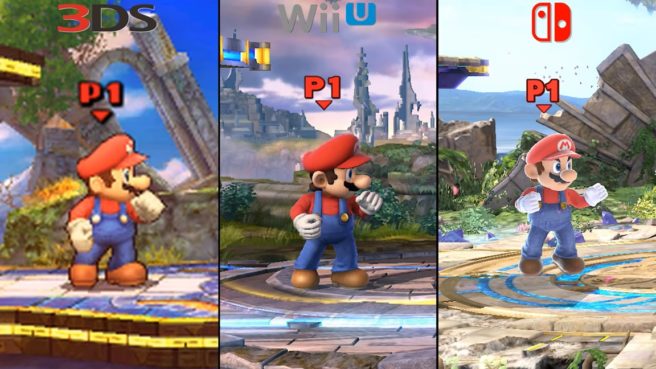 When Super Smash Bros. Ultimate was initially announced, some wondered how closely the game was tied to last-gen's Wii U iteration. But now that the game has finally launched, it's clear just how different this new entry is. Digital Foundry has taken a closer look at Ultimate from a technical perspective that shows a substantial upgrade.
The first aspect to consider is lighting, which has been improved in Ultimate. Some parts were left untouched, but textures for building sides were redone. Bridge of Eldin is one stage that shows just how much has been added and changed. Clothing has been revamped as well. One apparent downgrade is Donkey Kong, who has lost his fur shell from the Wii U version. Also, shadow resolution has been reduced.
Super Smash Bros. Ultimate runs at a full 1080p when docked. In portable mode, it goes down to the highest 720p setting. Graphical quality remains mostly the same regardless of the mode you're playing it with a few small exceptions in areas like shadow quality.
When it comes to frame rate, Smash Bros. Ultimate almost never skips a beat at hitting 60FPS. Even with eight players on screen, the game doesn't dip. The only issue? Having every player use the Ice Climbers in an 8-player match will cause the frame rate to drop, though that's the absolute worst-case (and very rare) scenario.
Here's the full analysis from Digital Foundry:
Leave a Reply