Suzerain to appear on Switch in September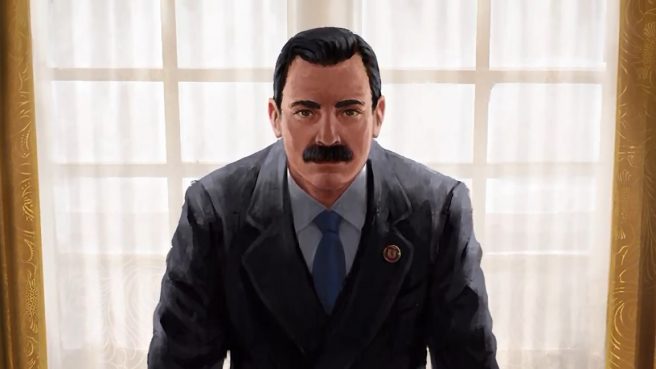 Suzerain, the tale of political intrigue where your choices have consequences, will soon be heading to Switch. The title is lined up for September 23.
Fellow Traveller and Torpor Games announced the port during The Indie Houses Direct just a short while ago.
We have the following overview and trailer for Suzerain:
As President Rayne, lead the nation of Sordland during your first term in this text-based role-playing game. Navigate a complex political drama driven by conversations with your cabinet members. With looming border conflict, entrenched corruption, economic crisis and reform needed, the difficult choices fall on your shoulders. How will you lead?

Key Features

– Revamped UI Designed for Switch Gaming: The Dev team has spent months redesigning the Suzerain experience so it plays intuitively and accurately on Switch. The new Switch interface and other improvements have made the handheld experience the best way to experience Suzerain.
– Weighty, dramatic conversations: Navigate intricate conversations in this 400K-word branching political drama.
– Every choice has consequences: Make difficult choices on security, economy, diplomacy and more. Even outside the office, your values and beliefs will be challenged.
– Make allies and enemies: Interact with a wide array of characters with different personalities and ideologies.
– The oath of office versus family and values: See the real impact of the choices made in office on your family and close relationships
– Pay attention to current events: Follow the situation in Sordland through reports and news.
– What will your legacy be? You can take the country in many different directions, resulting in one of 9 different major endings.
– Every decision you make is final: There is an autosave feature that does not allow loading earlier saves. Make choices carefully.
Suzerain will cost $17.99 on the Switch eShop. Pre-orders go live on September 16, and a 20 percent discount will be offered. The launch discount will run until September 30.
You can visit the official website for Suzerain here.
Source: Fellow Traveller PR
Leave a Reply