Switch owner with early access to Advance Wars 1+2: Re-Boot Camp has order cancelled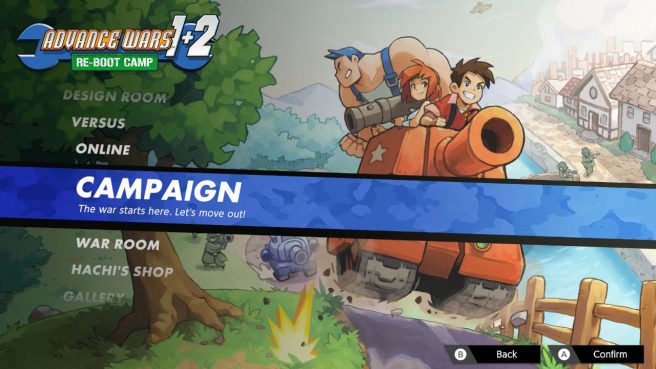 A few days ago, we reported that Twitter user killetheth managed to gain early access to Advance Wars 1+2: Re-Boot Camp. It turns out that Nintendo has since taken action.
killetheth explained the situation further in a blog post. As it turns out, there was some sort of error made by the official UK My Nintendo Store. Nintendo sent out an email on March 9 indicating that the order had been cancelled due to the game's delay and a refund would be provided, but that never happened. The company followed up on March 15, stating that the original download code would actually still be valid at launch, so a refund wasn't necessary after all.
killetheth went on to talk about gaining early access to Advance Wars 1+2: Re-Boot Camp:
As far as I was concerned, I still had my pre-order for when the game would eventually come out (if ever). The title sat on my Lite continuing to say that the game was not able to be played yet and as we all know, the game then vanished from the eShop and practically everywhere.

Fast-forward to last weekend. I was away all day on Friday on holiday so the unlock could have and probably did happen then as it was the original release date. I wasn't really playing my Switch that day, so didn't notice. But when I looked after coming home in the evening, it said that the game was now playable.

This was surprising to me, as I definitely remembered it being delayed. I wondered if they'd decided to do a silent release with no promotion (or something along those lines) to get the game released but be sensitive at the same time. I thought others had access to it (I still do, I'm sure this has happened to someone else out there aside from me), hence why I tweeted about my excitement at getting to play it on Saturday afternoon. I don't go on Twitter that much, so I didn't really go on for the rest of the day and I was not prepared for the response that tweet received.
Last Sunday, Nintendo issued yet another email saying that a return for Advance Wars 1+2: Re-Boot Camp was received, despite killetheth not actually arranging for that. Also said is that a refund would be provided, though that's something she hasn't received as of now. killetheth hasn't actually clarified whether she's still playing the game, but it'd technically be possible for awhile longer if the Switch system was put in airplane mode since Nintendo wouldn't be able to check for an invalid license.
Thanks to Greatsong1 for the tip.
Leave a Reply