Swords & Soldiers coming to Switch, out this week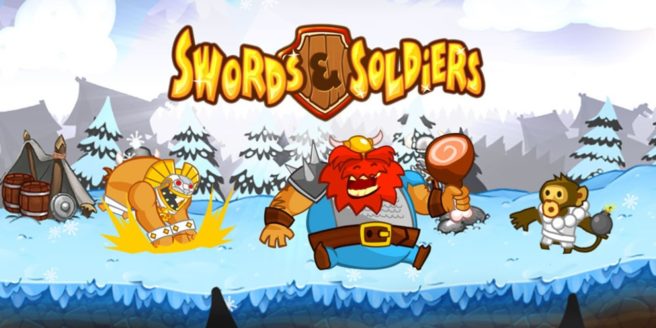 The original Swords & Soldiers is in the works for Switch, a listing on the European eShop reveals. A release is planned for January 25 with Two Tribes handling publishing.
Here's an overview from the listing:
Prepare for war on Swords & Soldiers' side-scrolling battlefields. Build your forces, engage in a tug-of-war for gold and energy, and defeat your foes with a huge grin on your face!

Pick from 4 totally different factions: the brutal Vikings, devious Aztecs, crafty Chinese, as well as Chief Meat's army. Each faction has its own reason to go to battle and its own campaign to play, adding up to many ours of side-splitting action-strategy.

In this improved Nintendo Switch edition of Swords & Soldiers you can even go head-to-head with a friend on a single touch screen!

– Hilariously playable 2D action-strategy
– Includes the Super Saucy Sausage Fest expansion as free DLC
– Tons of crazy units, including berserkers, giant boulders and ninja monkeys (yes, ninja monkeys!)
– 4 unique factions with their own singleplayer campaigns
– Go head-to-head with a friend on a single split-screen touch screen
– 29 tricky achievements
And a trailer from the Wii U version:
Swords & Soldiers II: Shawarmageddon is also coming to Switch. Last we heard, it was targeted for last December. That didn't happen in the end, but the game should also be ready for its Switch debut soon.
Source: Switch eShop
Leave a Reply