Tadpole Treble dev gives an update on the Wii U version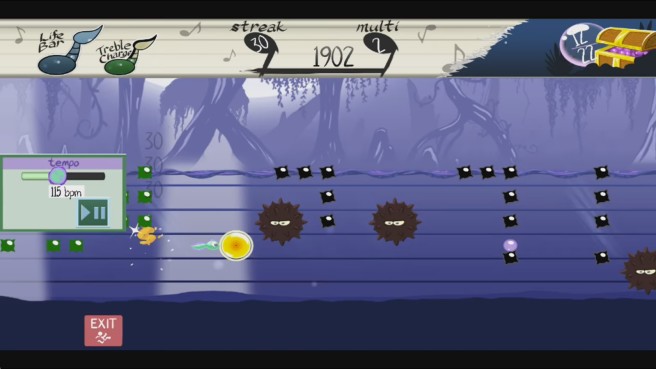 Tadpole Treble debuted on Steam at the beginning of May. Now Wii U owners are curious as to when the game will appear on the eShop.
Earlier this month, developer BitFinity provided an update on Kickstarter. There's unfortunately been a bit of an issue with one of Tadpole Treble's features, which has been causing issues with lot check and a later-than-anticipated release. It seems that the functionality has been cut for the time being, but BitFinity hopes to add it in later through an update.
The full notice from BitFinity reads:
Of course, the question in mind for many of you is regarding the Wii U version's release date. To be straight up, we're having quite a bit of difficulty passing through lot check, and it turns out that one of our extra features has been making this task particularly difficult. Unfortunately, this may result in us having to cut that feature for the Wii U version, although we're already attempting to find a way to patch it back in post-release! But since it's a major reason why it's taken the Wii U version longer to get through, we had to make a difficult decision on whether to delay the game further, or just try to work it in as a patch so that people can still play the game sooner.

Here's the good news: it's still happening. It might be coming in Summer 2016 instead of Spring now, but we're still making it our biggest priority. I'm a Wii U owner and lifelong Nintendo fan, and I know the sting of companies (or Kickstarters!) canceling the Nintendo version out of the blue. We're not going to do that to you! The Wii U will have Tadpole Treble. I didn't come this far to not have my game on a Nintendo system, by gum! WE'RE MAKING IT HAPPEN. NO MATTER HOW MUCH IT DETERIORATES OUR SANITY!!
Leave a Reply