Temtem gets September release date on Switch, new details and trailer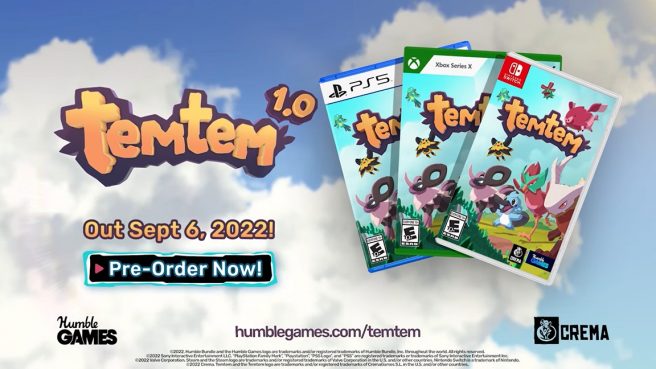 It's been a long time coming, but Temtem finally has a release date on Switch. Following a previous stint in Early Access, the game will be available for Nintendo's console on September 6, 2022.
New features are planned for Temtem to coincide with its primary launch. After the launch of version 1.0, players can look forward to seasonal updates and a Battle Pass with free and premium awards tracks. Also planned is the final island, completing the Airborne Archipelago, and offering new activities through which you can test yourself as a Temtem tamer, new places to shop, and new areas to explore with friends. Finally, there'll be weekly quests that will be updated regularly post-launch.
Here's some information about Temtem:
Temtem is a massively multiplayer creature-collection adventure where players seek adventure in the lovely Airborne Archipelago alongside their Temtem squad. Players can catch every Temtem, battle other tamers, customize their house, join a friend's adventure or explore the dynamic online world.

Story Campaign: Journey across six vivid islands and embark on the adventure of becoming a Temtem tamer while fighting against the evil Clan Belsoto.

Online World: The days of traveling solo are over; in Temtem the world is a massively multiplayer one. Tamers from around the world can join and you will be able to see them around you, living the adventure with you and fighting to become the best Temtem tamer.

Co-Op Adventure: You will be able to join forces with a friend any time and work together towards your next goal. Catch new Temtem, complete a Route, or face off against a Temtem Leader; all while fighting alongside your friend in dual battles!

Housing: Buy your own house at Atoll Row and decorate it your way. Buy new furniture, color your walls and you'll be ready to invite your friends over!

Customize: Customize your character to stand out from the crowd and get new cosmetics while you battle other tamers. Pick a silly hat, a comfy sweatshirt, some pants and you're ready to go! Or maybe you prefer to wear a full-on cosplay of your favorite Temtem?

Competitive: Start by choosing 8 Temtem and the pick and ban phase will begin. Take turns with your rival to pick your Temtem and ban theirs. When all the decisions are made and the turns are ended, you will end up with a squad of 5 Temtem and the battle will begin.
Along with today's release date news, Temtem has received a new trailer. We've included it below.
Temtem will be sold both physically and digitally on Switch. Fans will be able to purchase the Digital Deluxe version, which includes the complete game and cosmetic bonuses. There'll also be a carefully curated bundle of Temtem essentials separately from the game with the Temtem Collector's Edition, featuring statue dioramas, replica temcards, enamel pins, and more – further details are located here.
Source: Humble Games PR
Leave a Reply