Tetris 99 announces 32nd Maximus Cup with Fire Emblem Engage theme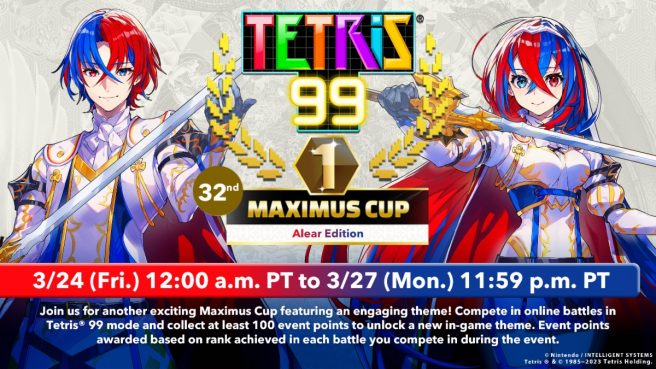 It's been a bit since the last notable Tetris 99 event, but the 32nd Maximus Cup has now been announced – and players will have the chance to earn a Fire Emblem Engage theme.
While the event is active, any Nintendo Switch Online member just needs to play the Tetris 99 online mode during the event period. Points are given out based on placement in each match. After reaching 100 points, the unique theme will unlock in Tetris 99 with background art, music and Tetrimino designs inspired by the strategy RPG.
Interestingly, Nintendo has confirmed that with this Maximus Cup, players will have a chance to earn more points than they did previously if they rank between places #90 and #2 in a match. The #1 spot still provides 100 points.
Here's a video promoting the
The Tetris 99 32nd Maximus Cup featuring the Fire Emblem Engage theme kicks off at 12 AM PT on March 24. It will run until 11:59 PM PT on March 27.
Tetris 99 is currently available on Switch. Let us know if you plan on participating in the upcoming event in the comments below.
You can visit the official website for Tetris 99 here.
Leave a Reply