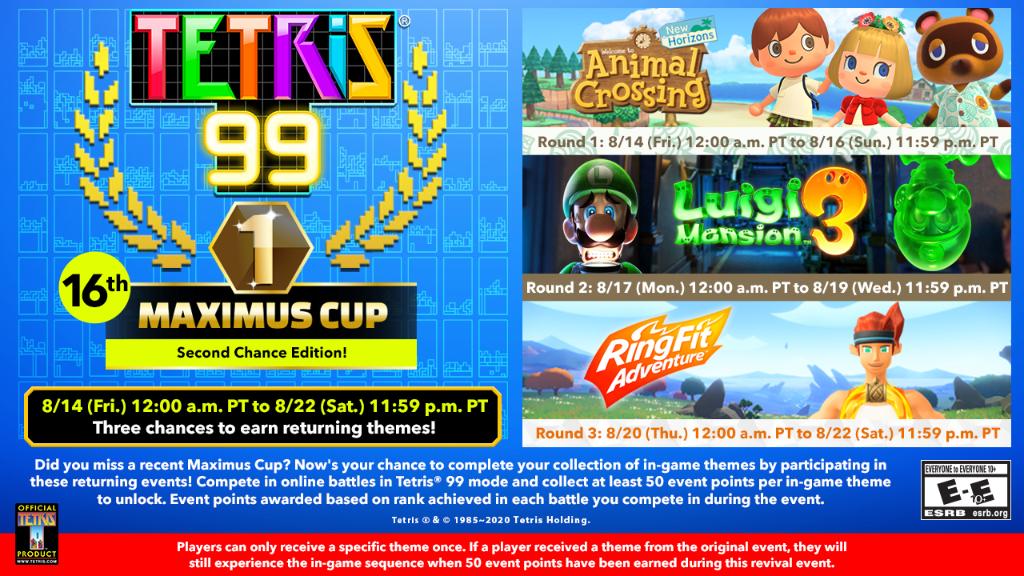 Nintendo has announced the 16th Maximus Cup for Tetris 99. This time around, players will have another chance to earn past in-game themes.
Round 1 features Animal Crossing: New Horizons, the second round is for Luigi's Mansion 3, and the third round is for Ring Fit Adventure. We have a look at the relevant dates above.
To earn each in-game theme, you'll only need 50 points now as opposed to 100.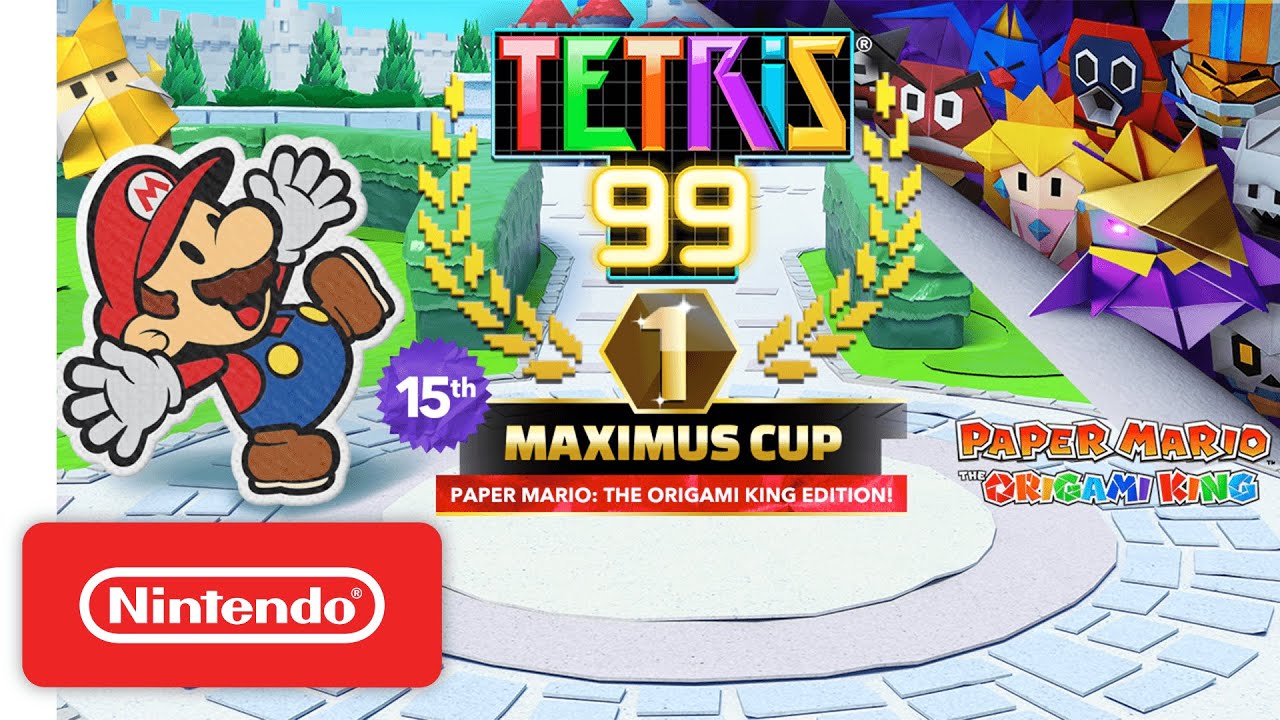 Nintendo has announced the 15th Maximus Cup for Tetris 99. This time around, Paper Mario: The Origami King will be featured. Players will be able to unlock a theme based on the game.
The 15th Maximus Cup goes live on July 31 at 12 AM PT / 3 AM ET. You'll have until August 3 at 11:59 PM PT / August 4 at 2:59 AM ET to collect 100 event points and unlock the theme.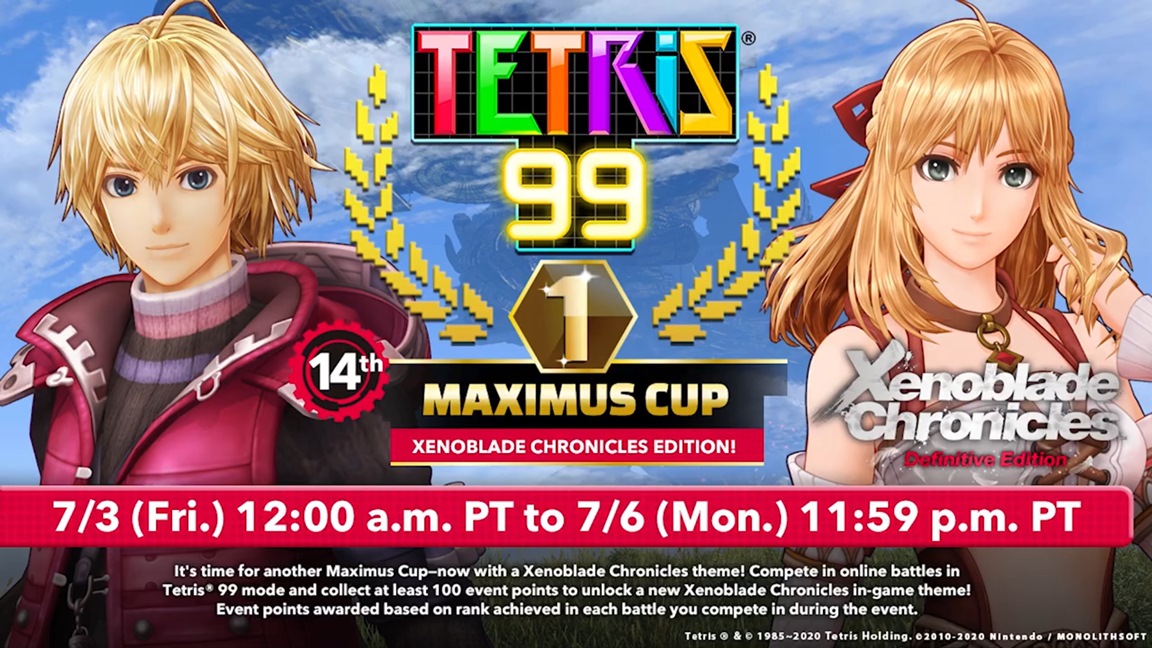 Nintendo has revealed the 14th Maximus Cup for Tetris 99. A new theme will be up for grabs, which features Xenoblade Chronicles: Definitive Edition – music included. You can secure it by earning 100 event points.
The new Tetris 99 Maximus Cup goes live on July 3 at 12 AM PT / 3 AM ET. It'll last until June 6 at 11:59 PM PT / June 7 at 2:59 AM ET.
Here's a trailer: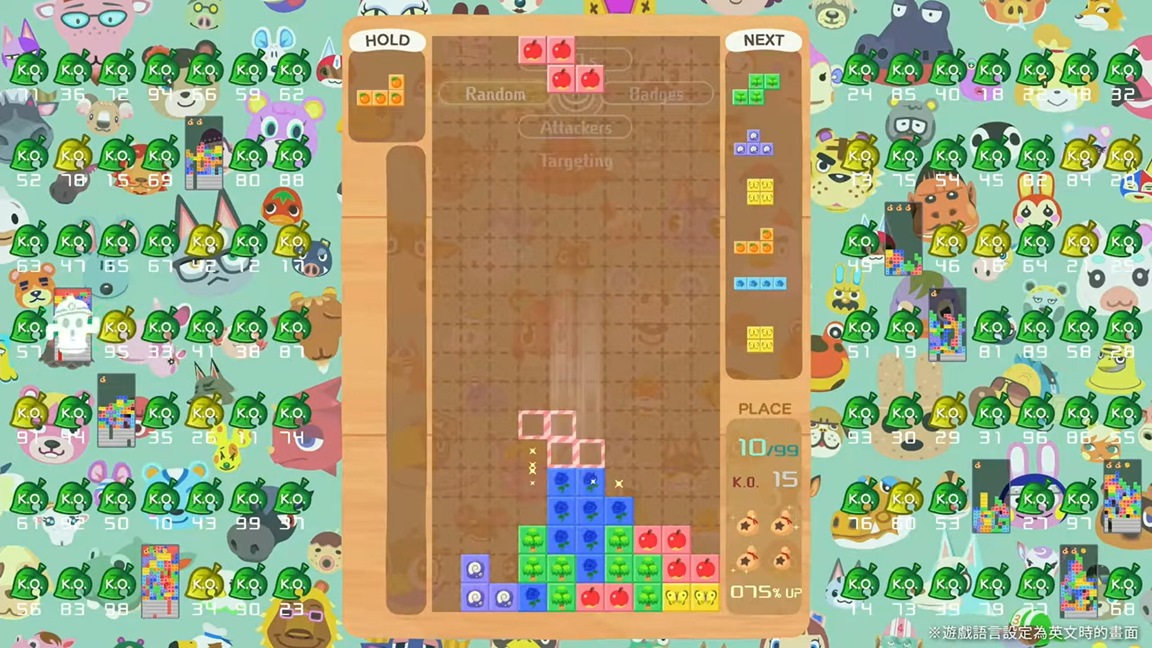 Nintendo has offered a look at the new Animal Crossing: New Horizons theme in Tetris 99, which can be obtained through the upcoming 13th Maximus Cup. Check out a bit of footage below.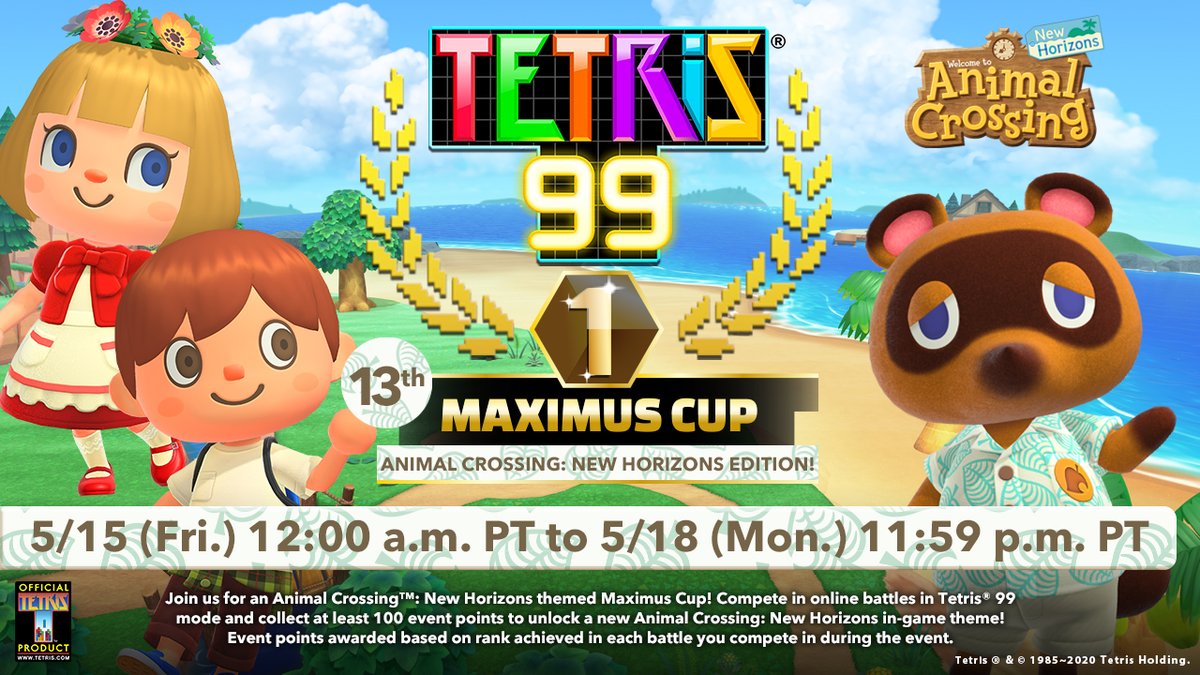 Nintendo has announced that the 13th Maximus Cup will take place in Tetris 99 this weekend. As part of the event, players can earn an in-game Animal Crossing: New Horizons theme. Simply earn 100 points while it's active to obtain it.
The new Maximus Cup will kick off on May 15 at 12 AM PT / 3 AM ET, lasting until May 18 at 11:59 PM PT / May 19 at 2:59 AM ET.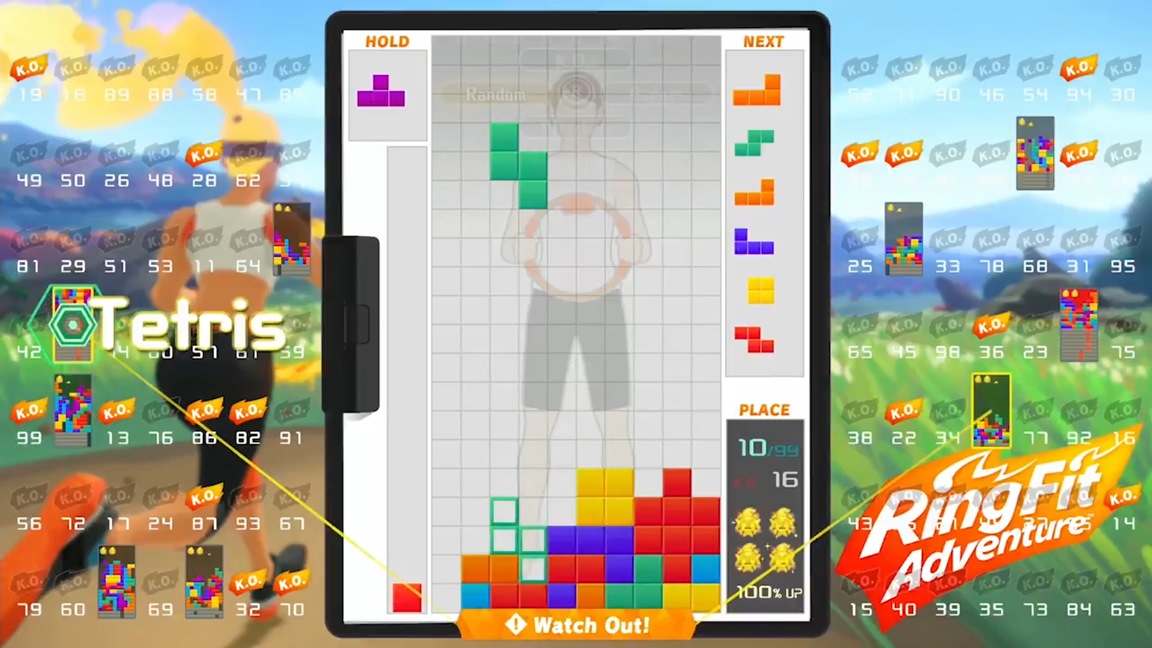 Earlier tonight, Nintendo announced a new Maximus Cup for Tetris 99. Players can earn a new Ring Fit Adventure theme by participating in the event and earning a certain amount of points.
Here's a look at the theme:
[トピックス]無料で遊んで特別コラボテーマをゲット! 「テト1カップ リングフィット アドベンチャー コラボ祭!」開催https://t.co/QftczNIJP1 pic.twitter.com/ueomnHLChO

— 任天堂株式会社 (@Nintendo) April 21, 2020
For more on the Maximus Cup event, read our original post here.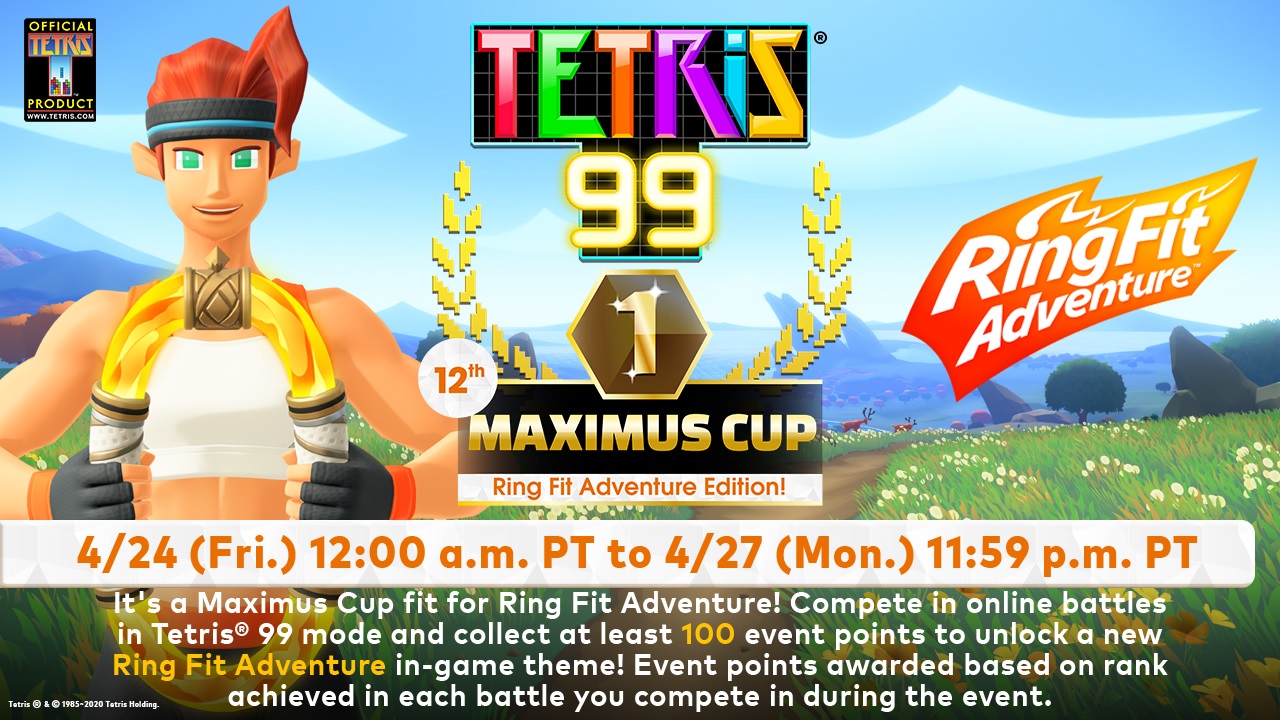 It's been awhile since the last Maximus Cup in Tetris 99, but a new event is starting soon. Nintendo announced the 12th edition today featuring another crossover.
Ring Fit Adventure, the hit exercising action-RPG, is featured this time around. Once you've reached 100 event points, you'll unlock a new theme related to that title.
The 12th Maximus Cup goes live in Tetris 99 on April 24.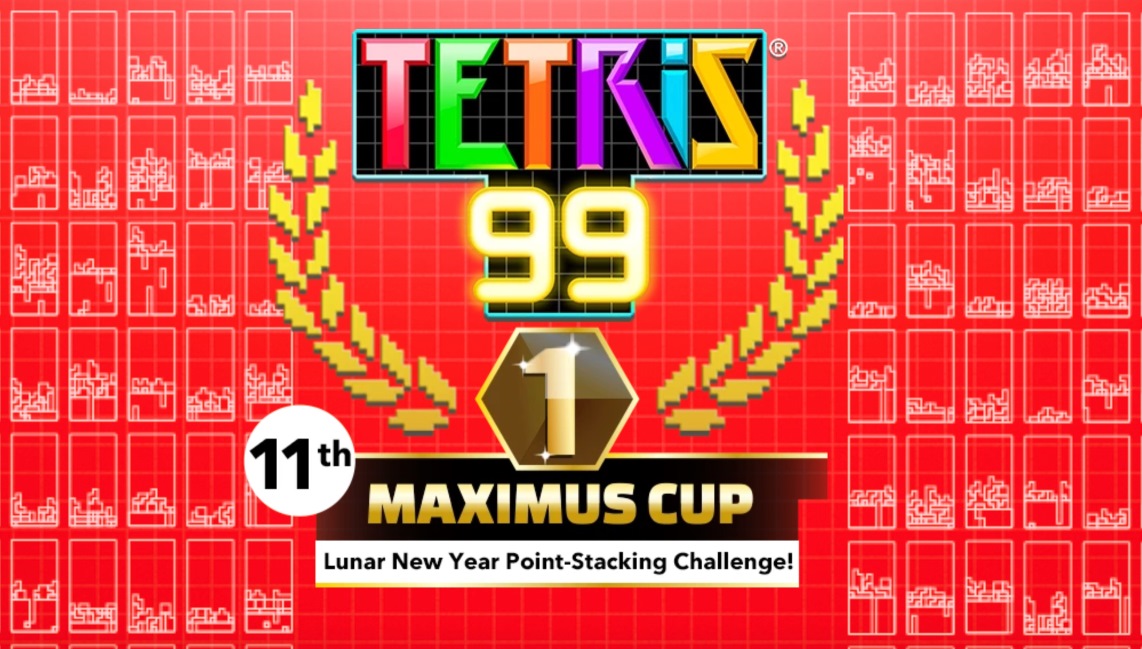 The 11th Maximus Cup will soon be hosted in Tetris 99, Nintendo has announced.
Players will be tasked with competing online and stacking up as many event points as possible. The top 999 players with the most points will be given 999 Gold Points to use on My Nintendo. Nintendo says event points awarded based on rank achieved in each battle you compete in during the event.
Tetris 99 will host its 11th Maximus Cup between January 30 at 11 PM PT and February 3 at 10:59 PM PT.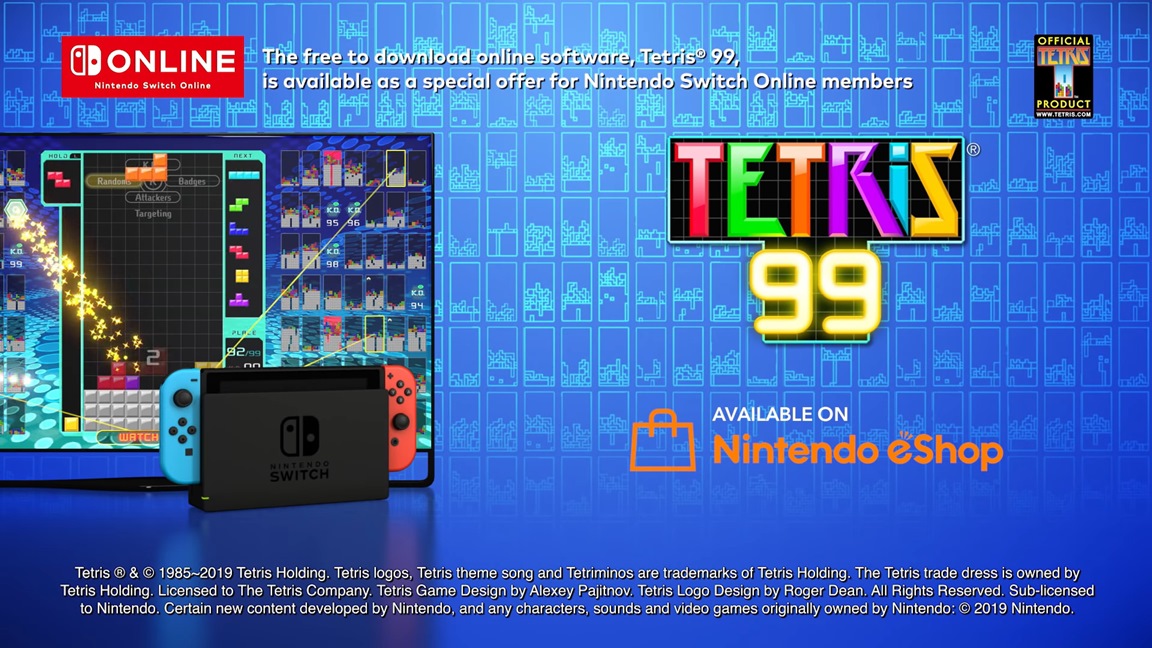 Alexey Pajitnov created one of the most important and influential games of all times in Tetris. The classic title has been released on plenty of different platforms over the past few decades in different forms and is a big reason why the Game Boy was as successful as it was.
Tetris 99 was Nintendo's take on the battle royal genre, and might be the most interesting version of Tetris yet. What does Pajitnov think of the Switch release? He's actually appreciative of what was done with Tetris 99, telling USgamer that it "is absolutely a great title."
He mentioned to the site: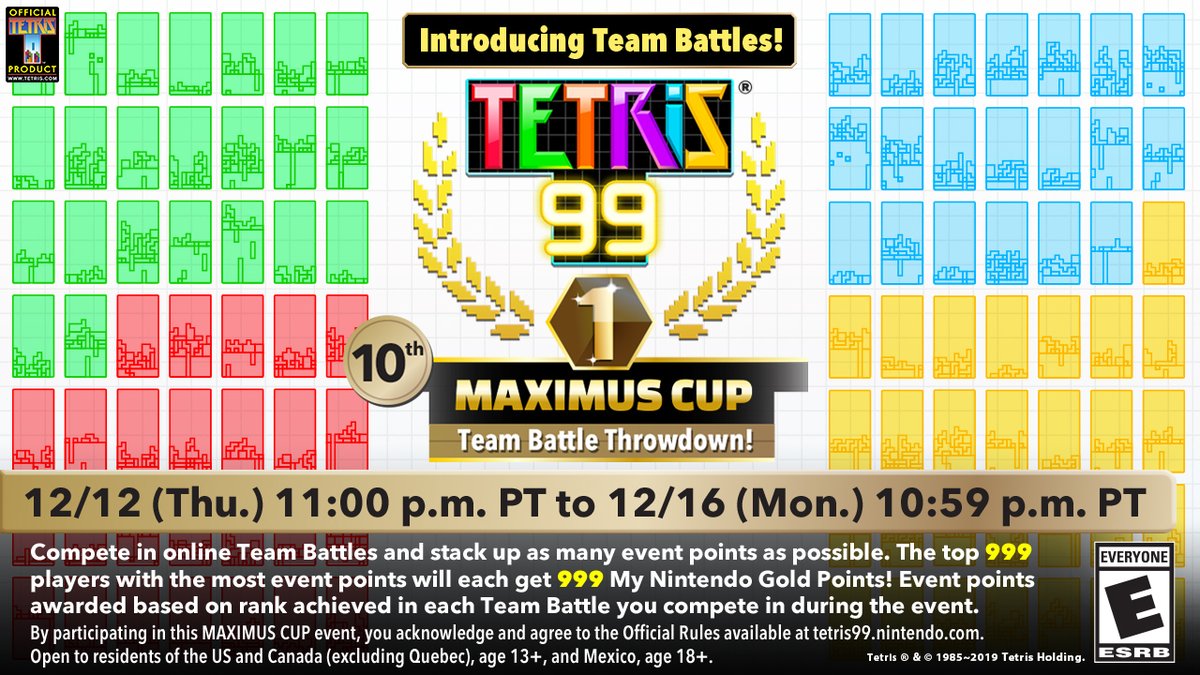 Nintendo has announced that Tetris 99 will host the 10th Maximus Cup this week. The event is promoting the new Team Battle Mode, and the top 999 players will each win 999 Gold Points on My Nintendo.
Look for Tetris 99's 10th Maximus Cup to go live on December 12 at 11 PM PT / December 13 at 2 AM ET.