Tetris Effect: Connected update out now (version 2.0.2), patch notes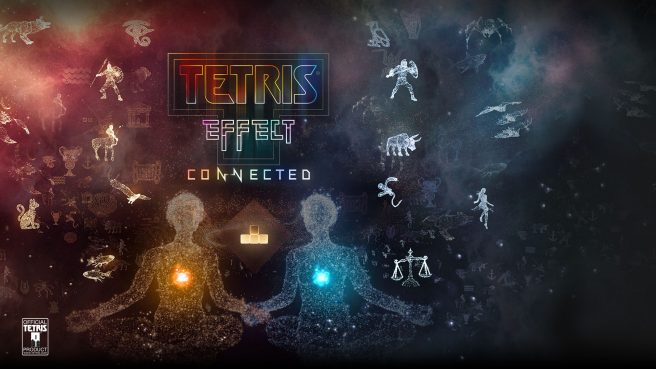 The latest update for Tetris Effect: Connected has been released and version 2.0.2 is available.
There are a couple of specific highlights worth pointing out. First, there's a new and tougher "Hyper" option in Maniac Mode in the match options of Connected Mode. There's also an info button in the Friend Match lobby.
The full patch notes for the Tetris Effect: Connected version 2.0.2 update are as follows:
[ALL] Added an even harder HYPER option to MANIAC MOD in the MATCH OPTIONS of CONNECTED mode, in LOCAL MATCH and FRIEND MATCH.
(MANIAC MOD settings are now OFF > ON > HYPER)

[ALL] Added HOLD QUEUE and NEXT QUEUE settings in the MATCH OPTIONS of SCORE ATTACK and ZONE BATTLE in LOCAL MATCH and FRIEND MATCH.

[ALL] Added T-SPINS and ALL CLEAR settings in the SCORING TEMPLATE of MATCH OPTIONS of CLASSIC SCORE ATTACK in LOCAL MATCH and FRIEND MATCH.

[ALL] Added HIGHEST AREA CLEAR stats in CONNECTED and HIGHEST ZONE LINES SENT in ZONE BATTLE under STATS: MULTIPLAYER

[ALL] Added an INFO button on the upper right of the FRIEND MATCH lobby, which displays MATCH OPTIONS settings. (Updated settings are displayed in yellow text.)

[ALL] Increased EXP points earned in ZONE MARATHON and CLASSIC SCORE ATTACK in EFFECT MODES to be more in line with other EFFECT MODES.

Other minor adjustments and bug fixes.

KNOWN IN-GAME ISSUES (not a comprehensive list):

[PS4/PS5, XBOX] Leaving the game in the multiplayer menu when suspending / putting your system into sleep or rest mode can (if or when your network connection is interrupted at any point) return a network error when trying to access Rankings or matchmaking in Ranked Matches. Please restart the game to fix this.

OTHERS

[SWITCH] Changing the Nintendo Switch system clock to a future time and posting scores in online multiplayer and then resetting it back could prevent your scores from updating in online multiplayer. Please do not change the system clock when playing online multiplayer.
All players on Switch can download the Tetris Effect: Connected version 2.0.2 update now.
Leave a Reply