The Game Paradise: CruisinMix Special announced for Switch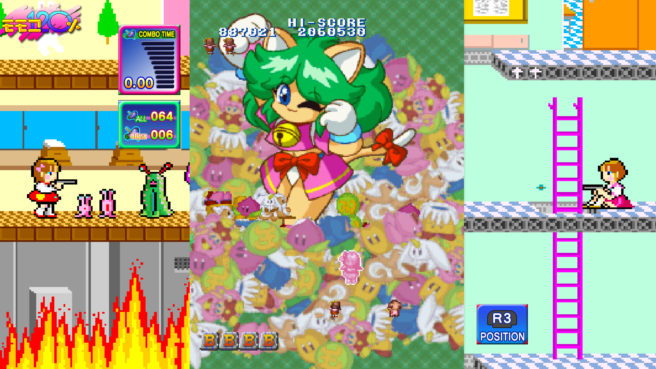 The Game Paradise: CruisinMix Special is coming to Switch, Dispatch Games and City Connection have announced. It will be sold both physically and digitally in both North America and Europe.
Here's an overview of The Game Paradise: CruisinMix Special, along with a trailer:
About

The Game Paradise: CruisinMix Special is an enhanced port of Jaleco's classic 90s vertically scrolling shooting game, mixing cute characters, a game world parodying a wide range of gaming tropes and history, tight controls, refined mechanics and eggplants?! CruisinMix features both the console original and the exclusive Arcade Mode + in a retro game fan's dream combination.

Story

The self-proclaimed "Super Duper Genius Smart Guy" Yamada has a plan to take over the gaming world; the obvious first step being to take control of all the arcade cabinets at the "You & Me Kamiyoga" arcade in Kamiyoga, Tokyo! But part-time arcade employee Yui Ito is ready to take him on! Determined to put an end to this cunning plot before the arcade opens, she hastily hacks together all the used arcade circuit boards she has lying around and calls upon all the main characters to take down this evil genius!

Gameplay

Choose from six ships, each with their own unique weapon system and bomb, and take the fight to the deranged Genius Yamada and his game-world spawned minions in multiple action and laughter-packed stages. With a cast coming straight from Jaleco's back-catalog and stages based around themes such as JRPGs, Japanese arcades and crane games there's never a dull moment. And don't forget the eggplants! In addition to the Classic console game modes, there's also Arcade Mode+ (a refined arcade port with more characters via downloadable content) and HD Data Mode (hi-resolution game flyers straight from Jaleco's archives)!

Key Features

Arcade Mode+ features:

Normal (six stages, multiple difficulties, and practice mode)
Time Attack (play against the clock for a high score)
Seven characters, six unique ships and more via DLC
Two display modes (vertical stretch and dot-by-dot)
Multiple soundtrack and voice types
HD Data Mode: high-resolution game flyers and information on Jaleco's games
Leaderboards and achievements

Classic Mode features:

Arcade

Six stages of straight-laced shooting with two-player co-op
One Time Attack stage
Vertical display mode

Arrange

Eight stages with fully-voiced intermissions
Fully voiced opening and ending movies and several songs
Time attack with two stages and a practice stage

History

Following its popularity in arcades upon its 1995 release, The Game Paradise hit the home console market in 1997. Featuring classic Jaleco characters alongside original ones all voiced by a number of popular voice actors and actresses; it was a character-based shoot 'em up that was well ahead of its time! Well-known manga artist Tatsuya Souma provided character designs, there were fully-voiced skits, four original songs, and animated sequences too! And all while making other shooting games jealous of how well it pulled off its game mechanics! It managed to be a character-centric game without succumbing to any of the cut corners that usually come with such a title.
Standard copies will be sold physically for $39.99. They will include a copy of The Game Paradise: CruisinMix Special, along with downloadable content from previously-released versions included on the cart (Clarice, Homura Banto, Voice Pack, and Tatsujin). The City Dispatch Online Store will carry an exclusive limited edition for $99.99 that also packs in a Memorial Works art book, vinyl album and CD soundtrack set, 21 reproduction Jaleco game flyers, and Custom Collectable Coin – Jaleco / Clarice Bomber.
Leave a Reply