The Last Door: Complete Edition arrives on Switch this month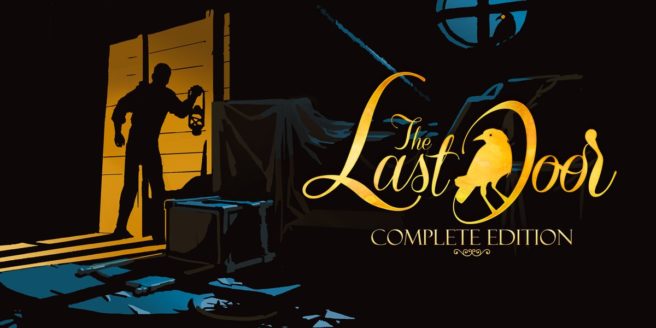 The Game Kitchen's psychological horror point-and-click adventure game The Last Door is coming to Switch, publisher Plug In Digital has announced. It will be released on the eShop this month as The Last Door: Complete Edition.
While Plug In Digital doesn't make this entirely clear, Complete Edition appears to include both seasons of The Last Door with all content. Here's the rundown on both plus trailers:
The Last Door
Back in December 2012, a Kickstarter campaign saw the creation of The Last Door's pilot episode, "The Letter", which was playable on web browsers. A passionate community soon formed around the game and new episodes were released about every four months. The first season was completed in February 2014 with the release of the fourth episode, "Ancient Shadows". In May 2014, "The Last Door: Collector's Edition" was released. It included the four episodes from the first season along with enhancements, new content, and a remastered soundtrack. Finally, the original platform (browser) was discontinued in October 2016, due to browser vendors removing support for the required plugins. Even thou playing from the browser won't be available anymore, existing customers will still have access to downloadable version of separated episodes, while new players will be recommended to purchase the Collector's Editions, which offer more value, in more platforms.

Features
– Award-winning point-and-click horror adventure set in Victorian England.
– Features real-life locations, intriguing scenes, and challenging puzzles.
– Enhanced graphics and remastered sound.
– Four critically acclaimed episodes, in one single set.
– New extras, bonus content, achievements and plenty of Easter eggs and secrets.
– Haunting, original musical score by Carlos Viola.
– Inspired by the works of H.P. Lovecraft, E.A Poe, Guy de Maupassant and Arthur Machen.
The Last Door Season Two
In Season 2 of the award-winning hit The Last Door, delve further into the madness of the Veil as Dr. John Wakefield, the psychiatrist of the first season's protagonist, Jeremiah Devitt. Setting out in search of his client, Wakefield is soon drawn into a haunting web of forbidden knowledge, madness, and a deeper conspiracy hiding it all. As his search takes him beyond England, will he find his missing client? Or will he merely find that he, too, is about to become lost in the search for the Last Door?

Features
– Sequel to the award-winning point-and-click Victorian-era horror adventure, The Last Door.
– Search for uncover forbidden knowledge that may drive you mad.
– Guide Dr. Wakefield through new locations, characters, scenes, and puzzles in a new compelling mystery.
– Four episodes and exclusive extras and bonus content in one single set.
– A new haunting, original musical score by Carlos Viola.
– Inspired by the works of H.P. Lovecraft, Edgar Allan Poe, Guy de Maupassant and Arthur Machen.
The Last Door: Complete Edition will arrive on May 22 and costs $14.99 / €14.99 on the Switch eShop.
Leave a Reply