The Pathless Switch release date set for February, new trailer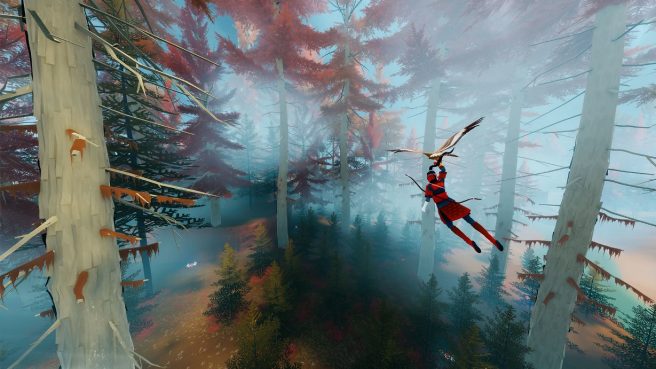 Thanks to publisher Annapurna Interactive and developer Giant Squid, we have a final release date for The Pathless on Switch. Both sides confirmed today that this version is slated for February 2, 2023.
The Pathless, which was made by the team behind Abzu, originally debuted in November 2021. The Switch version was confirmed last July after it was originally leaked by a classification listing.
Here's an overview of the game:
Become the Hunter, a master archer who travels to a mystical island to dispel a curse of darkness that grips the world. Soar through the air and forge a connection with your eagle companion. Perform fluid acrobatics and execute awesome trick shots with a unique archery system that allows effortless shooting while moving at high speeds. The Godslayer won't rest until the world is destroyed. Your bond with your eagle and the fate of the world hang in the balance.

With no map to guide you, shape your own path through ancient lands filled with secrets. Traverse lush meadows and snowy tundras, ascend mountaintops and glide over misty forests as you soar to new heights on the wings of your eagle. Discover the dark history of the island as you solve puzzles in ancient ruins and unearth long-forgotten lore. Peer through the veil of reality as you use your spirit sight to uncover the secrets of the past and find your path through this pathless land.

Giant corrupted spirits stalk their domains. Hunt them down with your trusty bow and a little help from your eagle companion– but be cautious, or the Hunter could become the hunted. Engage in epic boss battles against the cursed beasts to restore light to the land. Dust yourself off and get ready to try again if you fail–The Pathless doesn't punish you with permanent damage or death.

Immerse yourself in an interactive music system with one of the most expressive scores ever written by industry legend Austin Wintory. Featuring traditional Tuvan throat singing from the fabulous Alash Ensemble.

Explore a beautiful and captivating world from the mind of Journey and ABZÛ visionary Matt Nava. In the ruins of an ancient civilization reclaimed by the wilds, verdant forests border massive cliff faces with snow-capped peaks. Navigate crumbling temples and towering spires in your quest to bring the light back to this cursed land.

Set out to stop The Godslayer, voiced by Troy Baker (The Last of Us, Arkham Origins, Bioshock Infinite), as The Hunter, voiced by Laura Bailey (The Legend of Vox Machina, Last of Us 2, Gears of War).
A new trailer accompanying the release date news for The Pathless on Switch can be found below.
Leave a Reply