This Is Pool: Snooker Deluxe Edition coming soon to Switch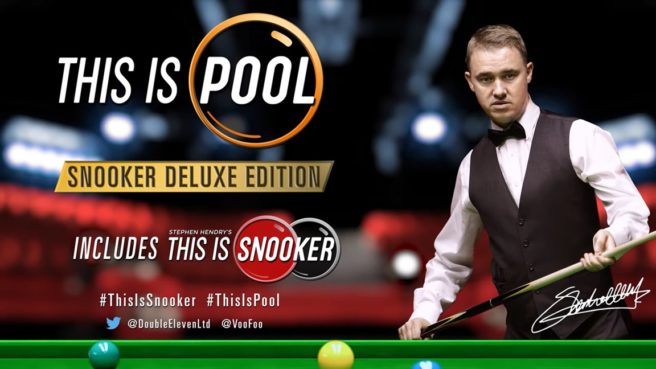 VooFoo Studios and publisher Double Eleven today announced This Is Pool: Snooker Deluxe Edition for Switch. The cue sports simulation featuring seven-time world snooker champion, Stephen Hendry, will be out "soon".
Here's plenty of information about the game:
Former world number one for eight consecutive seasons, Hendry is widely regarded as one of snooker's greatest ever players. Stephen features in the game as both an AI opponent and expert mentor in a series of exclusive 'Cue Tips' videos designed to help improve your real-life and in-game snooker skills. Players will also be invited to play-through a series of arcade scenarios that challenge you to recreate defining moments in the snooker legend's record-breaking career.

VooFoo Studios has worked meticulously with Hendry to recreate his unique characteristics and attacking style of play in-game and to enhance their ability to create totally believable cue-sport physics in a stunningly realistic simulation of the world's most popular cue sports. Also featured in the game is world-renowned professional snooker and pool referee, Michaela Tabb, whose familiar voice brings authority and authenticity to the in-game referee.

This Is Pool – Snooker Deluxe Edition has been developed from the ground up using VooFoo Studios' completely revamped proprietary game and physics engine. "The unique new set of tools at our disposal has enabled us to do things we've never done before that will take the game and genre to a whole new level," stated Mark Williams, technology director at VooFoo Studios. "Our new engine has allowed us to create unrivalled levels of graphical fidelity and hyper-realistic, true-to-life ball physics, we're confident we've created the most technically advanced cue sports game ever made."

Published by Double Eleven and developed by masters of the genre Voofoo Studios, This Is Pool – Snooker Deluxe Edition is a content-packed, complete cue-sports experience featuring every major type of cue sport in six painstakingly-detailed locations with full pool and snooker career modes, mini games, trick shots, practice mode and extensive local and online multiplayer modes in a truly immersive cue sports simulation. The previously announced title, This Is Pool, will also be available to purchase separately.
And a trailer:
Source: Double Eleven PR
Leave a Reply