Tintin Reporter: Cigars of the Pharaoh getting limited edition, collector's edition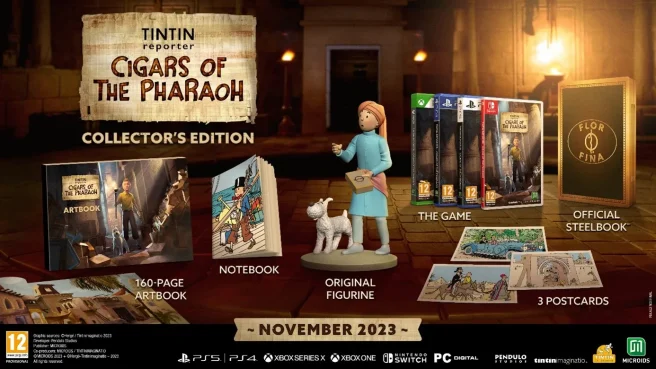 Original (6/22): Tintin Reporter: Cigars of the Pharaoh was already confirmed for physical release on Switch, but Microids has now revealed a limited edition and collector's edition.
With the limited edition, buyers will reeive a copy of the game, official steelbook, and three postcards. The collector's edition features everything in the limited edition as well as a notebook, 160-page art book, and an original figurine.
As a reminder, here's what to expect from
Inspired by one of the iconic adventures from the comic book series "The Adventures of Tintin" created by Hergé, which has sold over 275 million copies worldwide, this new video game marks the return of the legendary reporter with the puffball to the fascinating world of interactive entertainment. With a dynamic collaboration between Tintinimaginatio and Microids, this co-production brings Tintin back to life in an all-new and thrilling way.

Dive into the thrilling world of Tintin Reporter – Cigars of the Pharaoh, where the famous journalist and his faithful companion, Snowy, embark on extraordinary adventures. After meeting Professor Sarcophagus whilst cruising the Mediterranean Sea, the famous reporter sets out in search of the tomb of the Pharaoh Kih-Oskh. What are the dark secrets hidden in the tomb? From Egypt to India, passing through Arabia, Tintin & Snowy will end up investigating a gigantic drug trafficking network throughout the East. Get ready for a thrilling adventure through exotic lands!
Tintin Reporter: Cigars of the Pharaoh launches on Switch this November.
Source: Microids PR
---
Update (9/15): Tintin Reporter: Cigars of the Pharaoh was previously confirmed for November, but Microids has pushed back the Switch version to 2024. There are no other details surrounding the delay.
---
Update (10/25): A new gameplay trailer has been released, which we have below.
Gameplay Trailer
Leave a Reply