ToeJam & Earl: Back in the Groove sells the most on Switch, update roadmap detailed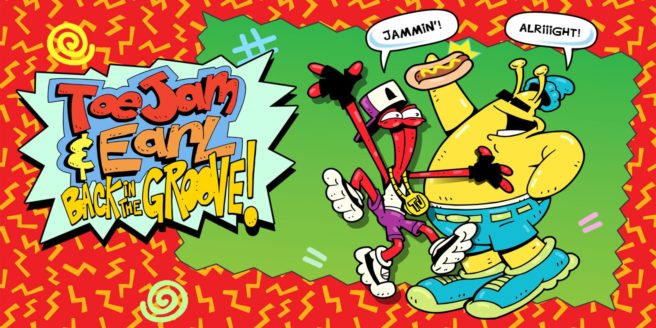 HumaNature Studios has offered up new sales data for ToeJam & Earl: Back in the Groove. The game has sold the most on Switch so far at 25,000 units, followed by 12,000 copies on Steam and PlayStation 4 each, and another 5,500 units on Xbox One. Between physical and digital, the total amount sits at around 53,000 copies sold between pre-sales and launch.
HumaNature Studios says it needs to sell roughly 150,000 units lifetime in order to break even. The developer believes it's "a great start and we think if we can keep momentum rocking".
In other news, HumaNature Studios has also outlined what to expect in terms of updates. Here's the full rundown:
Willie hears ya, and Willie DOES care. We love all the feedback and bug reports that have been coming in, KEEP IT UP! If you spot something that doesn't feel right feel free to shoot us an email at [email protected] and we will do our best to address it. We also have a Canny set up over at: https://tjande.canny.io/ where you guys can upvote the most common bugs or most requested features and those will be the ones we prioritize. Also – as always feel free to join our Discord and discuss these feedback and bugs reports here: https://discord.gg/4TuKvgT

Also you may have noticed we rolled an update out on Steam that was causing some crashes. We apologize for any inconvenience this caused and we worked quickly at reverting it to the previous version. This was because a Unity update caused some wonkiness in our build and Dark Levels were crashing for a high number of players. Going forward we are considering adding an Update Test Branch to Steam so we can test updates a bit before rolling them out to everyone.

Aside from fixing the Dark Levels, we have many other fixes we are looking into. Such as a number of issues on Switch where players are experiencing crashes when using the Elevator online, inconsistencies when loading previous saves, and increasing the performance in split screen multiplayer.

We are also considering limiting how far players can actually fall down levels in multiplayer so that there will be less stability issues across the board. By making it so that players can't fall more than 1 or 2 levels, there will be less levels loading in and should result in an increase in framerate. Let us know what you think about this idea in the comments.

There are a number of manual fixes coming as well, but if you see a typo or anything wrong be sure to let us know so we can get this thing perfect for y'all before we print it for our physical collectors.

There are also some smaller (although very frustrating) fixes coming like the map not working in multiplayer by always showing 'Level 0' and no tiles being revealed. Problems with Swap Bodies and the Secret Level causing sounds to disappear. If there is anything you think should be given priority be sure to mention it in the [email protected] email or the Canny/Discord links mentioned above. We're gonna do our best to make this game perfect for you, thanks for your patience on this journey.
Leave a Reply