Tokoyo: The Tower of Perpetuity getting Switch physical release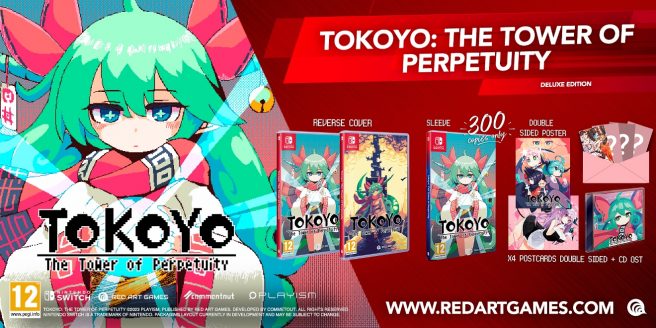 Red Art Games is preparing a physical release for Tokoyo: The Tower of Perpetuity on Switch, the company announced today in partnership with Playism and //commentout.
The title will be offered as a standard edition and Deluxe Edition. The latter includes a copy of the game, reversible cover and poster, a set of four double sided postcards as well as the official soundtrack on CD. It is only available from Red Art Games' website and is limited to 300 copies. Pre-orders begin on June 1 and the release is set for November 10, 2023.
Standard, ESRB-rated physical copies of the game will be distributed by Video Games Plus (VGP), Red Art Games' North American partner. North American fans can pre-order the title starting on June 1 via VGP's site here.
Tokoyo: The Tower of Perpetuity originally came to Switch as a digital release in June 2022. Read more about it below.
Fight your way through a constantly changing tower to solidify your eternal legacy!

You find yourself trapped in a mysterious tower – one that transforms its very structure every 24 hours. The legacy of your epic struggle shall be carved into the hearts of those who challenge you like an epitaph. Surpass countless poor fallen souls and make your way to the heretofore unseen top.

Journey to the top and unravel the mystery hidden within the tower!

This 2D action game is set in Tokoyo – the Tower of Perpetuity – a constantly changing and devilishly deceptive auto-generated dungeon crawling with fiendish monsters and brutal traps. The Tower of Perpetuity is automatically regenerated by the game server every 24 hours (in real-world time), allowing for players around the world to take on the same dungeon each day, and for one day only. Different traps and gimmicks await you each day, and you must compete against other players while battling your way through. The dungeon contains various differing branches, offering a certain degree of free choice and randomization.

Social features utilizing the network have been implemented in the game, in which a gravestone will be placed where a player meets their end, appearing in other players' games along with their "relics" and "last words". Take advantage of the different special skills afforded to each character and compete with other players as you struggle to surpass the countless bodies of your less fortunate rivals and fight your way through the impregnable dungeon.
Leave a Reply