Touhou Spell Bubble gets surprise release on Switch in the west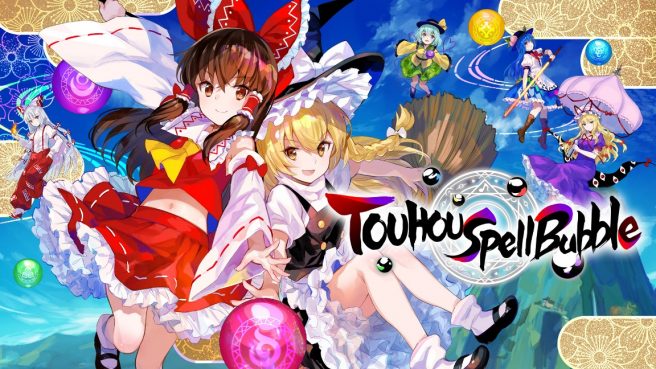 Touhou Spell Bubble, a rhythm and puzzle game mashup, debuted for Switch in Japan towards the start of 2020. It's now received a release in the west seemingly out of nowhere.
Here's an overview of Touhou Spell Bubble, along with a trailer and some footage:
A fusion of rhythm and puzzle in a simple to pick up action puzzle game! 20 characters and 48 arranged tracks from Touhou to do battle with!

Puzzle action with a new, rythmic beat!

A simple to control puzzle game with an added layer of rhythm-action combine to produce a whole new puzzle experience played to a catchy beat!

Play with Touhou Project characters!

Make use of all 20 characters from Touhou Project, including Reimu and Marisa, and a total of 60 different spell cards to aim for victory!

Story mode!

The game also includes a story mode that you can play by yourself. Travel through the world of Gensoukyo and enjoy an original story, only available here!

Challenge mode!

You will fight against strong enemies with designated characters and spells in the challenge mode.
There are also stages with higher difficulty level. Let's challenge it!"

A collection of 48 arranged tracks from Touhou Project!

A total of 48 tracks including, of course, many fan favourites along with 12 exclusive, new tracks only available in Spell Bubble!

Music Highlights:
Bad Apple!! feat. Nomico
Grip & Break down !!
Night of Knights / Knight of Nights
Cirno's Perfect Math Class
Even the Blossoming Flowers Will Eventually Scatter
Yukemuri TamaOnSen II
Shinkirou
Dance in the Blue Sky, Ink-Black Cherry Blossom
TouhouYouyoumu ~the maximum moving about~
Gensou no sateraito
And many other famous songs!

[Artists]

Amateras Records
A-One
Demetori
EastNewSound
FELT
IOSYS
Liz Triangle
Masayoshi Minoshima
ShibayanRecords
Silver Forest
SOUND HOLIC
SYNC.ART'S feat. Misato
TaNaBaTa
Akatsuki Records
Kishida Kyoudan & The Akeboshi Rockets
Shinra-Bansho
Sekkenya
RD-Sounds
TamaOnSen
beatMARIO
BUTAOTOME
Yuuhei Satellite
ZUNTATA

Additional song packs are now available!

Additional song packs with plenty more famous tracks are now available!
If you want to get even more out of Spell Bubble, check them out.
Touhou Spell Bubble normally costs $54.99 on the Switch eShop, though there's a small discount currently bringing it to $49.49. There's also a free demo on the eShop to try out.
Source: Switch eShop
Leave a Reply