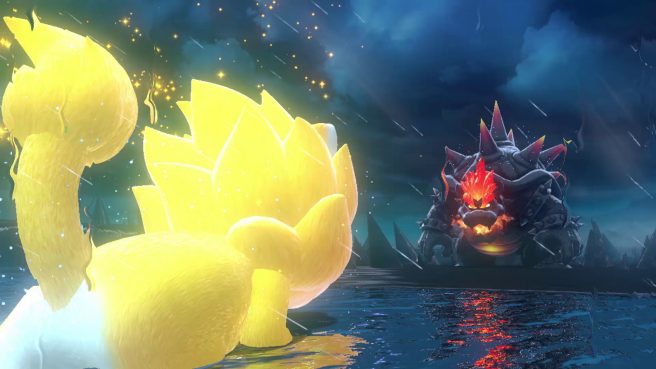 Update (3/8): Posted updated with the top 40.
---
Original: (3/7): This week's UK software sales, and there's a little bit of interesting news concerning some of Nintendo's Switch games.
Super Mario 3D World + Bowser's Fury took the top spot for the fourth straight week, though its sales lowered slightly by 18 percent. There were increases for other games, including Mario Kart 8 Deluxe (up 7 percent), Super Mario 3D All-Stars (up 36 percent), and even Super Mario Odyssey (up 5 percent). Animal Crossing: New Horizons also increased significantly, rising from #7 to #3 thanks to a 40 percent sales boost.
In other news, Bravely Default II decreased from #11 to #33 with a 74 percent drop. Persona 5 Strikers is no longer in the boxed charts.
Here's a look at the best-selling games in the UK over the past week:
| LW | TW | Title | Age Rating | Label |
| --- | --- | --- | --- | --- |
| 1 | 1 | SUPER MARIO 3D WORLD + BOWSER'S FURY | PEGI 7+ | NINTENDO |
| 2 | 2 | MARVEL'S SPIDER-MAN: MILES MORALES | PEGI 16+ | SONY COMPUTER ENT. |
| 7 | 3 | ANIMAL CROSSING: NEW HORIZONS | PEGI 3+ | NINTENDO |
| 6 | 4 | MARIO KART 8 DELUXE | PEGI 3+ | NINTENDO |
| 8 | 5 | CALL OF DUTY: BLACK OPS COLD WAR | PEGI 18+ | ACTIVISION |
| 13 | 6 | SUPER MARIO 3D ALL-STARS | PEGI 7+ | NINTENDO |
| 9 | 7 | GRAND THEFT AUTO V | PEGI 18+ | ROCKSTAR |
| 10 | 8 | MINECRAFT | PEGI 7+ | NINTENDO |
| 14 | 9 | RING FIT ADVENTURE | PEGI 7+ | NINTENDO |
| 12 | 10 | ASSASSIN'S CREED VALHALLA | PEGI 18+ | UBISOFT |
| 3 | 11 | THE LAST OF US PART II | PEGI 18+ | SONY COMPUTER ENT. |
| 15 | 12 | JUST DANCE 2021 | PEGI 3+ | UBISOFT |
| 17 | 13 | SUPER MARIO ODYSSEY | PEGI 7+ | NINTENDO |
| 4 | 14 | FIFA 21 | PEGI 3+ | EA SPORTS |
| 18 | 15 | THE LEGEND OF ZELDA: BREATH OF THE WILD | PEGI 12+ | NINTENDO |
| 16 | 16 | LITTLE NIGHTMARES II | PEGI 16+ | BANDAI NAMCO ENTERTAINMENT |
| 21 | 17 | DEMON'S SOULS | PEGI 18+ | SONY COMPUTER ENT. |
| 19 | 18 | LUIGI'S MANSION 3 | PEGI 7+ | NINTENDO |
| 24 | 19 | MINECRAFT DUNGEONS | PEGI 7+ | MOJANG |
| 20 | 20 | LEGO HARRY POTTER COLLECTION | PEGI 7+ | WARNER BROS. INTERACTIVE |
| 23 | 21 | SUPER MARIO PARTY | PEGI 3+ | NINTENDO |
| | 22 | POKEMON SWORD | PEGI 7+ | NINTENDO |
| 26 | 23 | RED DEAD REDEMPTION 2 | PEGI 18+ | ROCKSTAR |
| 27 | 24 | SUPER SMASH BROS. ULTIMATE | PEGI 12+ | NINTENDO |
| 22 | 25 | 51 WORLDWIDE GAMES | PEGI 12+ | NINTENDO |
| 28 | 26 | IMMORTALS FENYX RISING | PEGI 12+ | UBISOFT |
| 29 | 27 | WATCH DOGS: LEGION | PEGI 18+ | UBISOFT |
| | 28 | CRASH BANDICOOT N.SANE TRILOGY | PEGI 7+ | ACTIVISION |
| 35 | 29 | POKEMON SHIELD | PEGI 7+ | NINTENDO |
| 37 | 30 | MINECRAFT: BEDROCK EDITION | PEGI 7+ | SONY COMPUTER ENT. |
| 31 | 31 | HITMAN III | PEGI 18+ | SQUARE ENIX |
| 30 | 32 | LEGO JURASSIC WORLD | PEGI 7+ | WARNER BROS. INTERACTIVE |
| 11 | 33 | BRAVELY DEFAULT II | PEGI 12+ | SQUARE ENIX |
| 38 | 34 | LEGO MARVEL SUPER HEROES 2 | PEGI 7+ | WARNER BROS. INTERACTIVE |
| | 35 | YAKUZA: LIKE A DRAGON | PEGI 18+ | SEGA |
| 33 | 36 | MARIO & SONIC AT THE OLYMPIC GAMES TOKYO 2020 | PEGI 3+ | NINTENDO |
| 39 | 37 | CARNIVAL GAMES | PEGI 3+ | 2K |
| 36 | 38 | NEW SUPER MARIO BROS. U DELUXE | PEGI 3+ | NINTENDO |
| | 39 | SPLATOON 2 | PEGI 7+ | NINTENDO |
| 40 | 40 | NBA 2K21 | PEGI 3+ | 2K |
Leave a Reply