UK software sales – November 22, 2020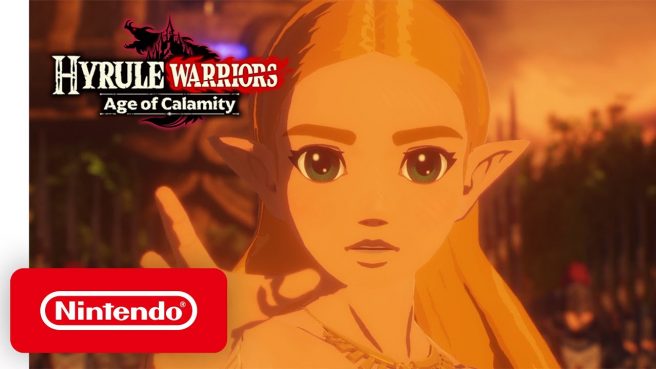 Update (11/23): Post updated with the top 40.
---
Original (11/22): This week's UK software sales are in, including the debut of Hyrule Warriors: Age of Calamity. Launch sales were 324 percent higher than Hyrule Warriors: Definitive Edition, though were 43 percent lower than Zelda: Link's Awakening. Of course, Hyrule Warriors isn't a traditional Zelda game.
Switch had a good week with with many games seeing increases. These include Animal Crossing: New Horizons (up 36 percent week-over-week), Mario Kart 8 Deluxe (up 39 percent), Minecraft (up 47 percent), and Super Mario 3D All-Stars (up 2 percent). Switch boxed game sales rose 52 percent week-on-week overall.
A couple of new releases came out last week. For the Fornite: The Last Laugh Bundle, 30 percent of sales were on Switch. Mortal Kombat 11 Ultimate also debuted with 5 percent of sales on Nintendo's console.
Here's a look at the top sellers from last week:
| LW | TW | Title | Age Rating | Label |
| --- | --- | --- | --- | --- |
| 2 | 1 | CALL OF DUTY: BLACK OPS COLD WAR | PEGI 18+ | ACTIVISION |
| 4 | 2 | FIFA 21 | PEGI 3+ | EA SPORTS |
| 3 | 3 | MARVEL'S SPIDER-MAN: MILES MORALES | PEGI 16+ | SONY COMPUTER ENT. |
| 1 | 4 | ASSASSIN'S CREED VALHALLA | PEGI 18+ | UBISOFT |
| | 5 | FORTNITE: THE LAST LAUGH BUNDLE | PEGI 12+ | WARNER BROS. INTERACTIVE |
| | 6 | HYRULE WARRIORS: AGE OF CALAMITY | PEGI 12+ | NINTENDO |
| 10 | 7 | WATCH DOGS: LEGION | PEGI 18+ | UBISOFT |
| 5 | 8 | ANIMAL CROSSING: NEW HORIZONS | PEGI 3+ | NINTENDO |
| 8 | 9 | MARIO KART 8 DELUXE | PEGI 3+ | NINTENDO |
| 9 | 10 | MINECRAFT | PEGI 7+ | NINTENDO |
| 7 | 11 | SUPER MARIO 3D ALL-STARS | PEGI 7+ | NINTENDO |
| 18 | 12 | MARVEL'S AVENGERS | PEGI 16+ | SQUARE ENIX |
| 12 | 13 | RING FIT ADVENTURE | PEGI 7+ | NINTENDO |
| 25 | 14 | STAR WARS: SQUADRONS | PEGI 12+ | EA GAMES |
| 11 | 15 | JUST DANCE 2021 | PEGI 3+ | UBISOFT |
| 19 | 16 | 51 WORLDWIDE GAMES | PEGI 12+ | NINTENDO |
| 6 | 17 | DEMON'S SOULS | PEGI 18+ | SONY COMPUTER ENT. |
| 15 | 18 | MINECRAFT DUNGEONS | PEGI 7+ | MOJANG |
| 14 | 19 | GRAND THEFT AUTO V | PEGI 18+ | ROCKSTAR |
| 37 | 20 | JUST DANCE 2020 | PEGI 3+ | UBISOFT |
| | 21 | SPYRO REIGNITED TRILOGY | PEGI 7+ | ACTIVISION |
| 22 | 22 | LEGO HARRY POTTER COLLECTION | PEGI 7+ | WARNER BROS. INTERACTIVE |
| 21 | 23 | LUIGI'S MANSION 3 | PEGI 7+ | NINTENDO |
| 26 | 24 | NEW SUPER MARIO BROS. U DELUXE | PEGI 3+ | NINTENDO |
| 13 | 25 | SACKBOY: A BIG ADVENTURE | PEGI 7+ | SONY COMPUTER ENT. |
| 24 | 26 | SUPER MARIO ODYSSEY | PEGI 7+ | NINTENDO |
| 23 | 27 | CRASH BANDICOOT 4: IT'S ABOUT TIME | PEGI 7+ | ACTIVISION |
| | 28 | DIRT 5 | PEGI 12+ | CODEMASTERS |
| 28 | 29 | THE LEGEND OF ZELDA: BREATH OF THE WILD | PEGI 12+ | NINTENDO |
| | 30 | MORTAL KOMBAT 11 ULTIMATE | PEGI 18+ | WARNER BROS. INTERACTIVE |
| | 31 | FALLOUT 76 | PEGI 18+ | BETHESDA SOFTWORKS |
| 34 | 32 | SUPER SMASH BROS. ULTIMATE | PEGI 12+ | NINTENDO |
| | 33 | CRASH TEAM RACING NITRO-FUELED | PEGI 3+ | ACTIVISION |
| | 34 | FIFA 20 | PEGI 3+ | EA SPORTS |
| 27 | 35 | POKEMON SWORD | PEGI 7+ | NINTENDO |
| 33 | 36 | SUPER MARIO PARTY | PEGI 3+ | NINTENDO |
| 30 | 37 | MARIO & SONIC AT THE OLYMPIC GAMES TOKYO 2020 | PEGI 3+ | NINTENDO |
| | 38 | JUMANJI: THE VIDEO GAME | PEGI 7+ | OUTRIGHT GAMES |
| 32 | 39 | RED DEAD REDEMPTION 2 | PEGI 18+ | ROCKSTAR |
| | 40 | CRASH BANDICOOT N.SANE TRILOGY | PEGI 7+ | ACTIVISION |
Leave a Reply