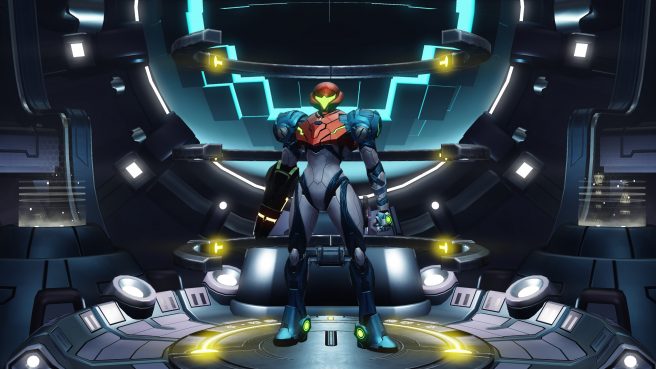 The latest boxed software sales numbers have arrived, and the top 10 best selling games of the week feature several new titles.
FIFA 22 maintains its top spot from last week's sales charts, though its week-on-week sales have dropped by about by 58%. Despite this, and a slightly smaller launch week than its predecessor, it is currently on track to sell better overall.
Metroid Dread also arrived on October 8, and currently has secured third place on the sales charts, being the fastest selling Metroid title in the UK already. Metroid Dread is also the fifth biggest launch for a Nintendo game this year, behind Super Mario 3D World + Bowser's Fury, The Legend of Zelda: Skyward Sword HD, Monster Hunter Rise and New Pokémon Snap.
Super Monkey Ball: Banana Mania made its debut this week, and currently holds 8th place for UK software sales in its launch week.
Several other Nintendo Switch titles have kept a spot on the charts this week. Mario Kart 8 Deluxe currently rides at 4th place, Animal Crossing New Horizons hangs on to its 7th place spot from last week, and Super Mario 3D World + Bowser's Fury comes in at 9th place.
It is also worth noting that with the arrival of the Switch OLED model, physical sales of Switch games are up 26% compared to last week.
Here is the full chart of last week's best selling physical games in the UK as of October 9:
| # | | Title | Publisher | | Last week |
| --- | --- | --- | --- | --- | --- |
| 1 | – | FIFA 22 | ELECTRONIC ARTS | | 1 |
| 2 | | FAR CRY 6 | Ubisoft | | |
| 3 | | METROID DREAD | Nintendo | | |
| 4 | | MARIO KART 8 DELUXE | NINTENDO | | 2 |
| 5 | | ALAN WAKE REMASTERED | EPIC GAMES | | |
| 6 | | MINECRAFT | NINTENDO | | 5 |
| 7 | – | ANIMAL CROSSING: NEW HORIZONS | NINTENDO | | 7 |
| 8 | | SUPER MONKEY BALL: BANANA MANIA | SEGA | | |
| 9 | | SUPER MARIO 3D WORLD + BOWSER'S FURY | NINTENDO | | 10 |
| 10 | | GRAND THEFT AUTO V | TAKE 2 | | 9 |
| 11 | | HOT WHEELS UNLEASHED | MILESTONE | | 4 |
| 12 | | F1 2021 | ELECTRONIC ARTS | | 8 |
| 13 | | SONIC COLOURS ULTIMATE | SEGA | | 3 |
| 14 | | MARVEL'S SPIDER-MAN: MILES MORALES | SONY COMPUTER ENT. | | 6 |
| 15 | | THE LEGEND OF ZELDA: BREATH OF THE WILD | NINTENDO | | 18 |
| 16 | | MINECRAFT DUNGEONS | MOJANG | | 15 |
| 17 | | POKEMON SWORD | NINTENDO | | 14 |
| 18 | | LUIGI'S MANSION 3 | NINTENDO | | 23 |
| 19 | | THE LEGEND OF ZELDA: SKYWARD SWORD HD | NINTENDO | | 20 |
| 20 | | SUPER MARIO ODYSSEY | NINTENDO | | 28 |
| 21 | | NEW SUPER MARIO BROS. U DELUXE | NINTENDO | | 24 |
| 22 | | MARVEL'S AVENGERS | SQUARE ENIX EUROPE | | 16 |
| 23 | | LEGO HARRY POTTER COLLECTION | WARNER BROS. INTERACTIVE | | 27 |
| 24 | | SUPER SMASH BROS. ULTIMATE | NINTENDO | | 29 |
| 25 | | JUST DANCE 2021 | UBISOFT | | 22 |
| 26 | | PLANTS VS ZOMBIES: BATTLE FOR NEIGHBORVILLE | ELECTRONIC ARTS | | 33 |
| 27 | | ASSASSIN'S CREED VALHALLA | UBISOFT | | 30 |
| 28 | | WARIOWARE: GET IT TOGETHER! | NINTENDO | | 17 |
| 29 | | MARIO GOLF: SUPER RUSH | NINTENDO | | 26 |
| 30 | | RING FIT ADVENTURE | NINTENDO | | 31 |
| 31 | | SUPER MARIO PARTY | NINTENDO | | 32 |
| 32 | | LEGO JURASSIC WORLD | WARNER BROS. INTERACTIVE | | 34 |
| 33 | | CALL OF DUTY: BLACK OPS COLD WAR | ACTIVISION BLIZZARD | | 35 |
| 34 | | POKEMON SHIELD | NINTENDO | | 37 |
| 35 | | RED DEAD REDEMPTION 2 | TAKE 2 | | 21 |
| 36 | | NEED FOR SPEED: HOT PURSUIT – REMASTERED | ELECTRONIC ARTS | | |
| 37 | | STAR WARS JEDI: FALLEN ORDER | ELECTRONIC ARTS | | |
| 38 | | NBA 2K22 | TAKE 2 | | 25 |
| 39 | | LEGO DC SUPER-VILLAINS | WARNER BROS. INTERACTIVE | | |
| 40 | | DEATHLOOP | BETHESDA SOFTWORKS | | 1 |
Leave a Reply