Vesper: Zero Light Edition getting a physical release on Switch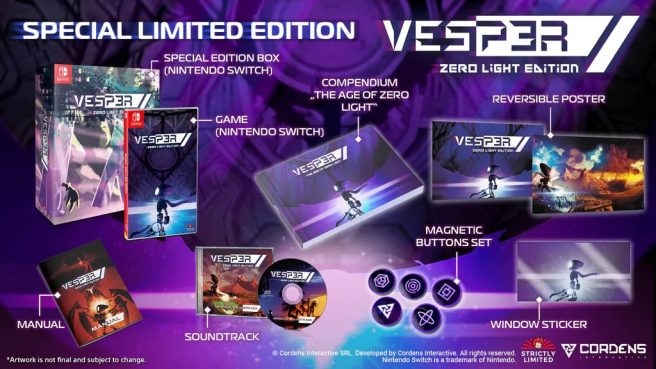 Strictly Limited Games has revealed plans for a physical release of Vesper: Zero Light Edition on Switch.
Two versions are in the works. There'll be a standard edition as usual, along with a "Special Limited Edition". With the latter, fans will receive the game on a cartridge with an exclusive and limited cover sheet, special box, manual, companion book titled "The Age of Zero Light" that shows background art and details the backstory of Zero Light through every log found in the game, original soundtrack, five magnetic buttons, a double-sided poster featuring main visuals of the game, and a fluorescent character window sticker featuring art of the main character Seven in front of a backdrop of the game's artwork.
Here's some information about Vesper: Zero Light Edition:
Vesper is a visionary adventure taking place in a decaying world full of puzzles and mysteries to uncover, where your choices will change the future of an entire race.

Seven is a small android, lost on an eerie planet full of perils and traces of an ancient civilization – with no powers and no ability to defeat enemies until he finds the Drive Gun, a weapon used to absorb lights, create darkness, and control minds.

Frantic chases from relentless machines force you to take decisions in the blink of an eye.
Hide from your pursuers and sneak through enemy lines to reach your objective.

Use the Drive Gun to absorb light from various sources and create dark spots in which you can hide.
Inject absorbed light into machineries to open portals and activate deadly traps.

Control your opponents with light and dispose of them after have exploited their abilities.
Take control of your destiny and decide the future of the Android's race.

Creative Solutions: solve puzzles and trick your enemies in multiple ways using the power of the Drive Gun.

Connecting the Dots: collect mysterious and encrypted documents to uncover the real truth behind the Vesper Protocol.

The End is only the Beginning: start a new run after the credits have rolled and discover why you have changed the world forever.

The Sound of The End of the Universe: hear the mind-bending soundtrack from Francesco Gagliardi and lose yourself in the ambience of Aryish.

An Authorial Vision: experience a unique sci-fi story, where each shot and camera movement is finely hand-crafted by their authors, Matteo Marzorati and Tommaso Loiacono.
You can pre-order the physical release of Vesper: Zero Light Edition through Strictly Limited Games here. Copies are targeting shipment for Q1 2023.
Leave a Reply