Visual novel Harmonia to release on Switch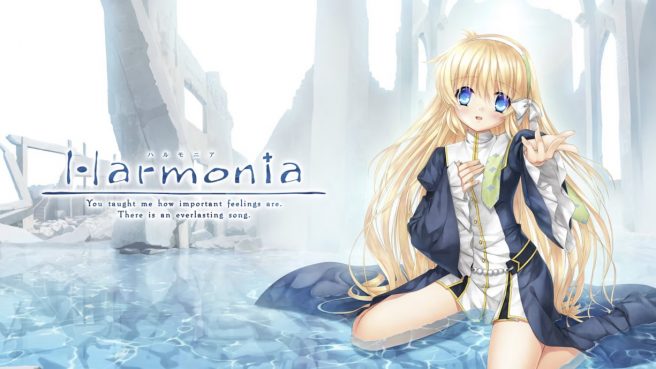 Harmonia, which previously appeared on PC, is now releasing on Switch. Prototype announced that it will bring the title to the console on October 20, 2022.
Harmonia is a visual novel – or kinectic novel as it's officially described – with choice-based story branches. We have more information about it below.
Set in a distant future where the world has been ravaged by war, Harmonia is a sci-fi visual novel about a robot boy and a human girl who come to form a special bond. A touching story that has been well-received the world over now comes to the Nintendo Switch system!

Now fully voiced! Protagonist Rei, as well as twenty-six background characters, are all given voices for the first time. Be swept up anew by passionate performances from star voice actors!

Text in three languages! The text can be set to Japanese, English, or Simplified Chinese (audio only available in Japanese). This includes in-game text, options, and the digital manual. Language settings can be changed at any time.

In the distant future, the Earth has been ravaged by an immense war, leaving the human population dwindling. In this ruined world, a humanoid robot boy, designated Phiroid, awakens in a disused facility.
Prior to the war, Phiroids were the purest form of human scientific achievement, imbued with all five senses and emotive functionality. Designed as partners for humans, they promised to make life better for all humanity.

When this boy-type Phiroid awakens, however, he quickly realizes that he is missing his emotive functions. Harboring an innate need for human contact, and to regain his missing emotions, he sets out into the devastated earth.

Having walked for countless days, he eventually loses consciousness, only to be saved by a lone girl. Thinking that he is human, the girl takes good care of him. As this Phiroid boy lives alongside this girl, little by little, he comes to learn about emotions.
Harmonia will be sold as both a physical and digital release in Japan. It will be available in the west as well, though only as a digital version. Those interested in securing a boxed copy can pre-order the game here. English is supported despite it coming from Japan.
You can access the official website here.
Leave a Reply