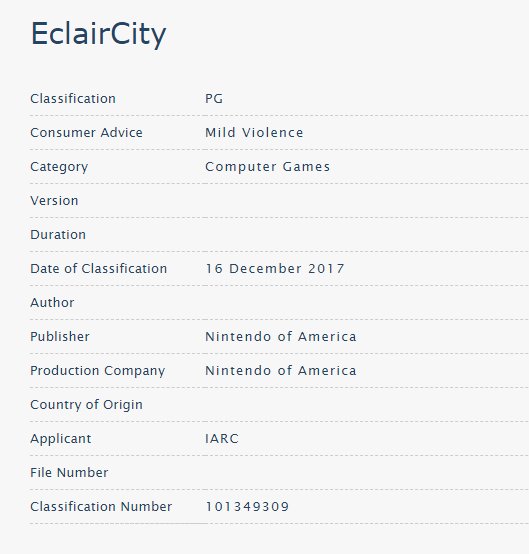 Back in December, a rather strange listing was added to the Australian classification database. A title listed as "EclairCity" was rated, seemingly for a Nintendo platform. Nintendo of America is included as the game's publisher. While it was rated in December, the listing is just now making the rounds today.
Here's the thing: we're not entirely convinced that this is a Nintendo title at present. Listings for some indie games such as ChromaGun, Black Hole, and The Next Penelope also carry the "Nintendo of America" publisher name and even "Production Company" even though Nintendo has nothing to do with these releases.
On the other hand, the Australian database does have listings for some older titles that are properly connected to Nintendo. These include Pokemon Ultra Sun, Mario & Luigi: Superstar Saga + Bowser's Minions, and Metroid: Samus Returns.
Unfortunately, all of this doesn't really explain much in the end. It's possible that EclairCity is a Nintendo-published game, but it's also possible that it's a third-party release. We do have to put the warning out there though that this isn't 100% guaranteed to be a Nintendo game. Nonetheless, we're curious as to what EclairCity actually is.
Leave a Reply