Windbound update out now (version 1.4.0) – Witch Skin content, new Photo and Endless modes, more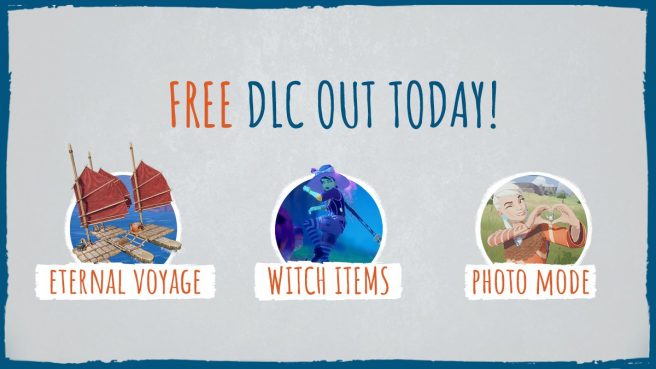 Deep Silver and 5 Lives Studios have announced a series of updates for Winbound. The first patch is live on Switch, bringing the game to version 1.4.0.
Today's update includes the new Witch Skin that enhances Kara's abilities. There are also new Photo and Endless modes, improvements, and bug fixes.
Below are the full patch notes:
New Features

The Eternal Voyage

The Eternal Voyage offers players an Endless Play mode.

Players can select this mode when they begin a new game.
The game does not finish with Chapter 5.
Death resets the player to the beginning of Chapter 1, retaining only their Blessings.

Photo Mode

A Creative mode for keen video game photographers offering full control over camera position & orientation, field of view, exposure, time of day, and position of the sun.

20 different poses & expressions for Kara.
20 hats and accessories for Kara.
A variety of filters, from black & white, to CRT, to Pastel.
Accessible from the Pause Menu.
Ideal for social media sharing.

Witch Skin items

These items will be available to players when they find a Pumpkin in the world. Finding a Pumpkin will reward players with one of the following Blessings as a reward for exploring.

Witch Hat makes the effects of potions last longer.
Witch Outfit allows players to respawn nearby after death (single use).
Witch Staff – This staff is unbreakable, and fires target seeking magic orbs.

For existing save games, Pumpkins will appear in the next chapter the player reaches, for new save games Pumpkins will appear from Chapter 1.

Blessing Slots

Players can now buy additional Blessing Slots if they have enough Sea Shard currency, allowing you to get more out of the Blessings system quicker, rather than having to rely on randomly being offered a new Blessing slot to equip more than one item.

---

Additional Bug Fixes and Improvements

General

New Game+ now resets to Chapter 1 but keep all player progress.
Tutorials will now appear in the Tutorials Menu to review as they unlock, regardless of whether the player has them set to off so as not to show whilst playing.
Reduced fall damage at low fall distances.

Crafting and Resourcing

Resolved a bug where food degraded during The Crossing.
Fixed a bug where you could craft items in the Meta Hub.
Corrected an issue where pots and other destructibles would not smash when attacking them.
Fixed an issue where "Gortl's Descent" blessing was not giving any Shards as a reward.
Increased rewards from Blessing Shrines.
Fixed an issue where fish and other items were immediately sinking to the bottom of the ocean making them impossible to collect.
Fixed a timing issue with wood-cutting sounds, broadened the spread of mining sounds and corrected the harvesting sound on Green mineral outcrops.
Fixed a bug where dismantling fires and cooking stations wasn't giving players the items that were cooking/curing.

Ocean Combat, Sailing and Boat

Boat impact damage calculations have been adjusted.
Fixed an issue where boats sounded like they were taking damage when gently beaching, when they were not.
Added a small grace period after Hookmouth attacks before applying further damage from subsequent attacks.
Resolved an error where Kara could lose her weapon when a Hookmouth impacts her boat and throws her into the water.
Fixed issue where Hookmouths could attack in shallow water.
There was an issue where the Quick Select was visible when rowing/sailing (it's not usable whilst rowing/sailing).

Combat and Weapons

Resolved an issue with jittering combat camera.
The combat camera will no longer travel through the floor.
Fixed a bug where players could dodge while gliding.
Fixed an issue with combat lock while gliding and falling.
Allowed early dodge out of attacks, reduced time to regain movement control after attacking. Slight increase in backup stamina regen, slight reduction in stamina cost for Kara's abilities.
Resolved an issue where the Bastion Bow Field didn't stop poison damage
Poison now drains Kara's stamina
Fixed a bug where when a sling or bow broke it used up the ammo the player had without actually firing it. The sling/bow will now fire the projectile and then break.
Locking on to a creature now correctly shows their name and health.
Added further fixes to address creatures launching into space.
Fixed issues where Plainstalkers would give up attacking after doing a dash attack.
Resolved concerns with combat where Plainstalkers could get stuck in jump up or jump down states.
Fixed an issue where Pondwhompers would abandon an attack part way through combat.
Fixed instances where players were not being able to lock onto Tremorlurks properly.
Resolved issues where Tremorlurks were not knowing that Kara is near.
Slightly increased the anticipation time before a Tremorlurk bursts from ground
Changed the minimum time from leaving the danger state to the danger music turning off from 3 seconds to 0.6 seconds, to help tighten-up the end of combat.
Windbound will receive another Q4 2020 update that includes additional skins for Kara, Free-sailing mode, an upgraded Nautilus tower experience, and will introduce a number of new towers for players to explore with new challenges to complete. Look for an additional patch in Q1 2021, which will further expand the Nautilus tower experience as well as add new enemy types, combat moves, and gameplay mechanics via a "corruption" system.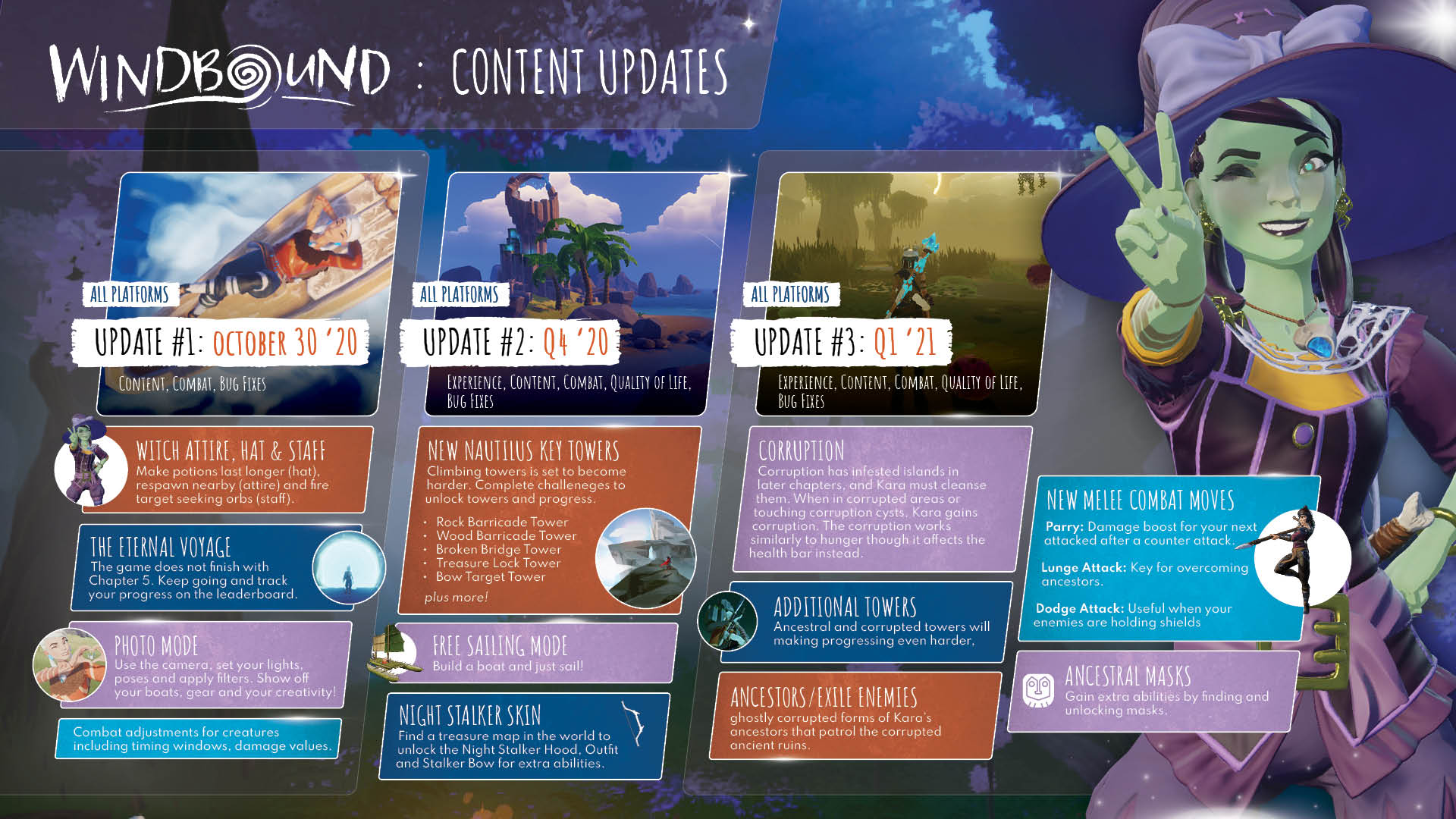 Finally, the pre-order bonus known as Kara's Ancestral Gear can be purchased separately today. It's available for $2.99.
Source: Deep Silver PR
Leave a Reply