Windscape, Toby: The Secret Mine, The Inner World – The Last Wind Monk listed for Switch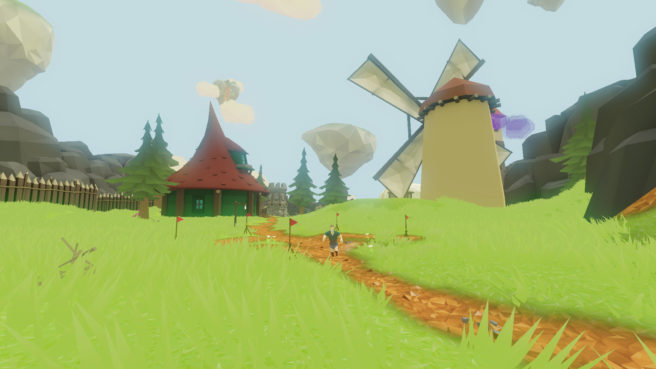 Headup Games' website is showing three new potential games for Switch. Windscape, Toby: The Secret Mine, and The Inner World – The Last Wind Monk are all listed for Nintendo's console.
Windscape was announced for Wii U in 2016, though that version is unlikely to happen at this point. Headup Games did release Toby: The Secret Mine on Wii U about a year ago. The Inner World – The Last Wind Monk, which debuted last October, has not yet appeared on a Nintendo platform.
We have more information and trailers for Windscape, Toby: The Secret Mine, and The Inner World – The Last Wind Monk below.
Windscape
In Windscape you play as a young girl living on your parents' farm, set in a lovely world made up of floating islands in the sky. As you discover the world you learn that something has gone terribly wrong – islands are breaking apart and falling from the sky! It's up to you to discover the evil that is threatening the universe of Windscape.

As you travel the world(s) you will gather valuable resources allowing you to craft a plethora of items such as weapons, shields, potions, magical spells and much more. Some items will be just for fun while others are a necessity for your survival.

You will meet peaceful NPCs and vicious monsters both on the surface of each island as well as in the dungeons and lairs you uncover along your journey. While I want the islands to work in a non-linear manner, I have decided to make the dungeons more puzzle and combat driven – each with its own style and atmosphere.
Windscape will feature tactical fights against larger bosses such as ghosts, ogres and dragons. Of course, there are many valuable items to loot too.

Features
– Journey freely through a vast world
– Take on jobs and quest to earn money and items
– Craft weapons, potions, items and more
– Explore dungeons and defeat powerful and unique bosses
Toby: The Secret Mine
A peaceful way of life in a small village in the mountains was thrown into disorder. Someone has kidnapped most of its residents. A couple of brave hearts tried to rescue their friends but none of them has returned. Little Toby didn't want to just sit and wait so he decided to find them by himself. He went to the near deep forest but he soon realized this is just a beginning.

Go with Toby on an eerie adventure in a dark and creepy world full of dangerous situations, enemies and challenging puzzles

Features

– Various beautifully handcrafted environments and great visual effects
– Lots of different puzzles
– Many dangerous and challenging traps and enemies
– Many hours of fun
– Get lost in the shadows and pray you find your way out…
The Inner World – The Last Wind Monk
The flute nose dynasty has been watching over Asposia for centuries on end. In secret, they fill the roly-poly world with light and life. Emil, a trader for odds and ends, has led all the Asposians astray, making them believe that the dynasty is in cahoots with dark forces. Seriously, who knows what this weird family is doing day in, day out? The only one who could stop evil Emil is the heir to the flute nose throne: Robert. He has been petrified for three years, though. With a huge dose of enthusiasm, but little to no idea what he's actually doing, he embarks on an adventure to find the legendary last wind monk. Of course, he has some great company: Peck, as loyal as he is flightless, and Laura, a rebel who certainly does fly, but only off the handle and who is Robert's love with a capital L, by the way. A final ray of hope is provided by the mysterious Mama Dola, who seems to know more about Robert's destiny than Robert himself…

Features
– Experience the fun and moving sequel to "The Inner World" (you don't need to know the first part!). Save the flute noses from persecution and evil Emil!
– Hours of fun brainteasers await you: find the last wind monk, cause trouble in a tumble mouse factory, play with Uncle Oboe for some toilet paper in prison, help a desperate Bingo-Pony become happy once again, bring the adorable baby gorf back home and save Asposia! Again!
– Navigate Robert and Laura, those charming Asposians, through the game. And now you can even operate the nutty pigeon, Peck.
– There are new sites for you to discover! Including the topsy-turvy airport "Asposia Central", the quirky tumble mouse farmers and the mysterious Shovel Mountains.
– Practice new songs on your magic flute nose and activate ancient artefacts.
– Beautiful hand-drawn adventure for people quick on the draw.
– Hilarious dialogues in awesome sound quality.
– The Asposian puzzle help: Provides you with hints when you're as clueless as Robert – completely spoiler-free of course.
Leave a Reply