Wizard of Legend getting second anniversary update soon on Switch (version 1.22), patch notes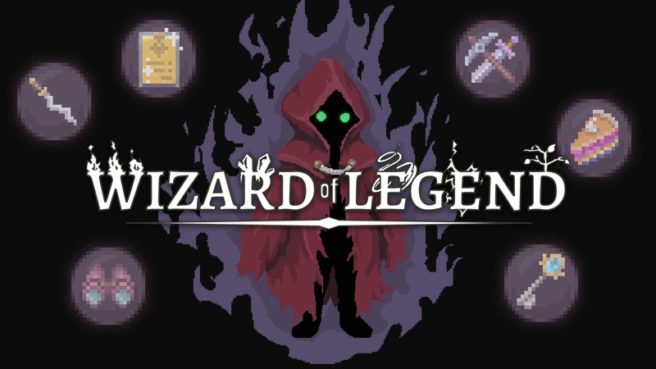 Wizard of Legend, the fast-paced dungeon-crawler, is now two years old. To celebrate, developer Contingent99 has prepared a major update that will soon be live on Switch.
The update adds loadouts, over a dozen new arcana, and new cursed relics. That's on top of quality of life improvements, adjustments, bug fixes, and more.
Below are the full patch notes:
New Features

New NPC added at home that will allow you to save up to 3 custom loadouts
Run history added at home which records the best runs for the Chaos Trials, Boss Rush, and Endless Mode (walk up to and face new shelf on right hallway)
Party Chests added which spawn at a low chance and include predefined sets of relics and arcana
Added relic and arcana vendors before the final boss along with a short run up encounter
Following relics received headgear visuals: Chaos Visor, Shark Mask, Elven Ears, Jade's Tiara, Berserk's Helm, Gilded Helm, Graduation Cap
14 new standard arcana, including 4 new standard chaos arcana
12 new cursed relics
2 new combine relics

Miscellaneous

Enemies in the Chaos PvP Arena now level up with time
Disabled the ability to evade while hurt
Lowered Cyclops laser duration when player is hit
Summoner enemies now have a longer cooldown on their minion revive ability
Added an area of effect indicator to the Thunder Zoner enemies

Quality of Life

Boss Rush mode now also unlocks Chaos Arcana
Loadout NPC added to Versus mode
All stores now offer 1 more item in the line up. Health Potions in the relic store moved to the side to accommodate for the change
Savile now takes less HP when upgrading your outfit during runs
Chaos Arcana have a chance of appearing in the arcana store starting from loop 3 and above
Various price adjustments

Relic Adjustments

Bewitching Glue now lowers player's movespeed and increases their stun duration when hurt
Ebon Wolf's Cloak now lowers your damage for anything other than fire and lightning arcana instead of increasing your damage received.
Megalodon Tooth now adds a chance to not expend your signature charge when used
Shark Mask now causes signature arcana to take longer to charge but always results in a critical hit
Armor of Resolve now grants a bit more armor when activated
Whimsical Explodium's chance to activate increased greatly and the radius of effect slightly lowered
Special Snowflake's chance to activate increased greatly
Elven Ear's chance to resist status effects increased
Greased Boots now enhances your dash arcana and lowers its cooldown
Bach's Escape Key changed to resist death. Each subsequent chance is reduced on successful attempts
Hardcover Textbook increases HP of summoned minions instead of adding an extra minion
Soccer Cleats adds slightly more damage to movement arcana
Jumper Cables now significantly reduces more cooldowns on movement arcana
Yuna's Storybook now significantly increases the duration of minion summon time
Adorable Mimic now counts itself in calculations

Arcana Adjustments

Gust volley shot speed increased
Severing Slash now works properly with Flak Gauntlets
Earth Stomp Agent now has less delay during their jump
Ion Spike's enhanced version now spawns a trio of extra orbs
Vortex Dash now places a trap where you land that pushes enemies to where your dash originated

Bug fixes

Fixed issue where minimap could disappear in certain situations
Fixed issue in co-op where one player could affect the other player's equipment or outfit menu
Fixed edge case with Abhorrent Deck that occurred when no arcana had been unlocked
Leave a Reply