[Interview] Wargaming talks bringing World of Tanks: Blitz to Switch, being in the Nintendo Direct, working with Nintendo, more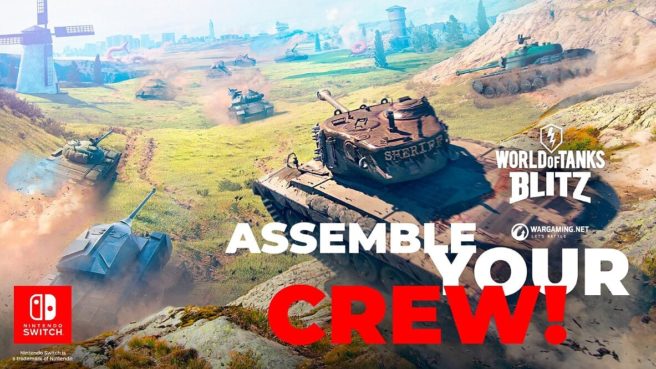 Wargaming recently surprised everyone by releasing World of Tanks Blitz on Switch. Not only that, but it had the honor of being revealed and released on the same day during the latest Nintendo Direct Mini: Partner Showcase.
Nintendo Everything recently interviewed Thaine Lyman from Wargaming's mobile studio to learn more about the experience of bringing World of Tanks: Blitz to Switch. The discussion also extended to the game's surprise release as well as working with Nintendo.
Here's our full discussion:
Can you introduce yourself and tell us a bit about World of Tanks Blitz for those that are unfamiliar with the game?

I'm Thaine Lyman, the General Manager of MS-1, Wargaming's mobile studio. World of Tanks Blitz is a free-to-play tank v. tank action game available on iOS, macOS, Android, Windows 10, Steam and now, Nintendo Switch. Players can choose from a collection of more than 370 armored vehicles and duke it out in fierce team-based tank battles. It's also a custom-tailored version of Wargaming's flagship title, World of Tanks PC, for the mobile market: the game was built from the ground up to have a great mobile experience at its very core.

This announcement came a bit out of nowhere, so we have to ask: how did World of Tanks Blitz come to be on Switch? How long has it been in the works?

World of Tanks Blitz isn't your typical mobile game, it's more like a console game in your hands. In fact, Victor [Kislyi, CEO of Wargaming] likes to call Blitz a "mobile console" game, so what better place to have World of Tanks Blitz than the Switch, which is really the first "mobile console"? Personally, I love that with the Nintendo Switch, I can bounce from playing the game handheld to battling on my TV at a moment's notice.

As for how long the Nintendo Switch version has been in the works: about a year. A team of 30 members deftly handled development of the Switch build while also continuing support to World of Tanks Blitz on its already existing platforms.

Along those same lines, what went into the decision to have an announcement and release on the same day? What sort of work goes into a surprise launch like that?

To be part of the Nintendo Direct show is a tremendous opportunity. We are honored to announce World of Tanks Blitz arriving on Nintendo Switch during one of the biggest announcement events in the industry. As for the surprise launch, we were ready to go, so why wouldn't we get it out there? It's incredibly satisfying to announce and deliver something to players the very same day. We wanted to get Switch players into the game immediately instead of making them wait.

What has it been like working with Nintendo on this release?

Working with Nintendo has been a great experience. They make it easy to really get the best out of their console's unique features. World of Tanks Blitz is the first Wargaming game to arrive on Nintendo Switch, so it was a completely new experience to all of us. Nintendo is a terrific partner and we really appreciate just how supportive they've been throughout the entire process. We're proud of the results and can't wait for gamers to jump in and play!

Did the team encounter any particular technical challenges while working on bringing the game to Switch?

As you know, World of Tanks Blitz was originally developed for iOS and Android, and we expanded to other platforms, like Steam, once we'd found our feet and laid the foundations. Bringing the game to Steam made it truly cross-platform and we applied the lessons we learnt from this experience when building the Nintendo Switch version. Of course, it takes a certain amount of time and learning when bringing a game to a new platform, but apart from those teething issues, there weren't any particular technical challenges that come to mind.

Was the Switch version made entirely by Wargaming, or did the company receive any outside assistance?

It was 100% developed in-house, but Nintendo was there to support us throughout the process.

World of Tanks Blitz supports cross-play, but are there any plans to allow for cross-progression in the future?

In fact, this is already the case: progress will be shared between the platforms players choose to play on as long as they use their Wargaming.net ID account.

Will the Switch version be updated in line with other platforms going forward?

The version players will get at launch is already in line with all other platforms; the game on Nintendo Switch will be completely in sync with the game on Steam, Windows 10 or mobile. And, of course, going forward we will fully support it like we do on any other platform. After some time, we will start reviewing how the Nintendo Switch players might differ from players on the other platforms, if at all, and make any adjustments to the in-game experience from there.

There have been some pretty interesting crossovers for World of Tanks Blitz, ranging from Valkyria Chronicles to Girls und Panzer. Is a Nintendo crossover something you'd be interested in? Something like Advance Wars could make sense…

Funny that you should mention Advance Wars, it's one of my favorite Nintendo game series. Personally, I'd love to do something with that entire game universe. That said, there are no current plans to do so. Honestly, Wargaming loves collaborating with great franchises and bringing gaming universes together, so naturally we're very excited at the opportunities coming to the Nintendo Switch could bring. The future with Nintendo is full of nothing but possibility.

Does Wargaming have interest in putting any of its other games on Switch?

Right now, we're solely focused on making the World of Tanks Blitz on Nintendo Switch launch a success. There's lots of work ahead for us and for now we are focused on making the Nintendo Switch experience the best we can.

What does the future of World of Tanks Blitz look like – be it on Switch or for the game in general?

World of Tanks Blitz is better than it's ever been and we as a team are feeling confident and excited about the future. Our community is as strong and loyal as ever, we celebrated our 6th anniversary earlier this year and we have robust plans for the future. That means more tanks, more maps, more new exciting game modes, and more surprises. There's plenty more to come from World of Tanks Blitz in 2020 and beyond.
Leave a Reply