World War Z announced for Switch, Saber says it's "the hardest thing that we have had to do"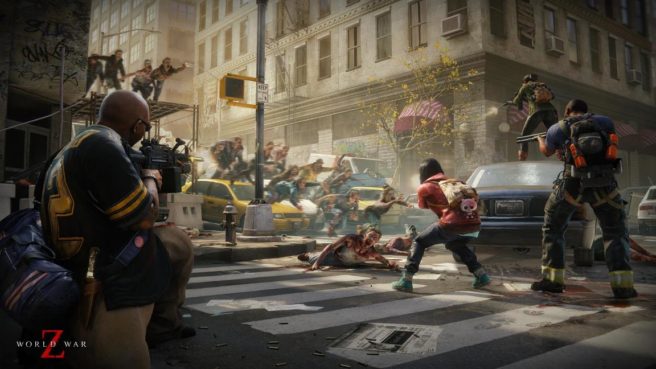 Saber Interactive, the studio behind the Switch port of The Witcher 3: Wild Hunt, has revealed that it's bringing World War Z to Switch.
World War Z is a four-player cooperative third-person shooter. Hundreds of zombies can sometimes appear on screen, and the game also supports four players online. Saber CEO Matt Karch said that giving everything involved, the Switch port has been "the hardest thing that we have had to do".
Karch mentioned to IGN:
"The biggest challenge was finding which compromises could be made to the game which wouldn't have a significant impact on the visuals. We needed to make sure the game looked great, fit into the Switch's memory and ran at a solid frame rate. There was really no single factor which made this a reality. We experimented constantly for the first few months until we found that balance. Keep in mind that we are rendering scenes with hundreds of enemies and four players online. Getting this to run on the Switch is the hardest thing that we have had to do – this is true even though we are porting our own [Swarm] engine over to the platform."
For those who haven't heard of World War Z, check out the following overview and trailer:
World War Z is a heart-pounding four-player cooperative third-person shooter featuring massive swarms of zombies that recklessly rush their living prey.

Focused on fast-paced gameplay — and inspired by the incredibly popular Paramount Pictures property of the same name — World War Z explores new storylines and characters from around the world in tense, overwhelming, gruesomely exciting missions.

– Battle swarms of hundreds of zombies in gruesomely spectacular firefights
– Coop story-driven campaigns
– Fight other survivors in Player vs Player vs Zombies modes

Level 6 character classes and weapon upgrades to take on greater challenges:

– Gunslinger – For those who skip the questions and shoot first, the Gunslinger is loaded with an arsenal of weapon damage and ammo-boosting perks to mow down the dead.
– Hellraiser – Enough explosives can solve any problem! Hellraisers come armed with C4 and other tools for effective crowd control.
– Slasher – For warriors with a sense of elegance, the best way to kill is with your trusty blade. Slashers have perks that increase melee damage and effectiveness while their armed tasers deliver electrifying results.
– Medic – Sometimes the best way to fight the undead is keeping your teammates from becoming one of them. Armed with a Stim Pistol, Medics can heal fellow survivors from a distance and help keep the chaos under control.
– Fixer – When versatility in any situation is the highest priority, the Fixer is there for you, starting out with an explosive ammo case and several teammate ammo-restoring perks.
– Exterminator – Fire is the answer! Armed with Molotov cocktails and increased fire damage, the Exterminator just wants to watch the undead burn.
Leave a Reply