Xbox execs, developers, and more react to Reggie's retirement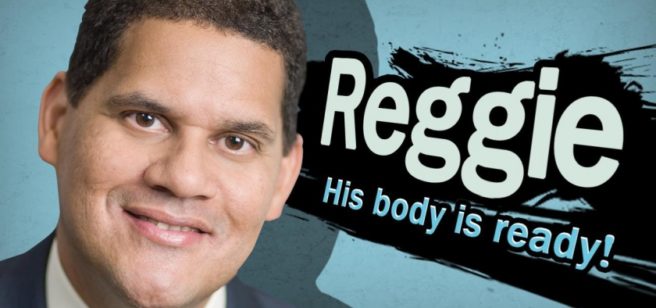 It came as quite the surprise today that Nintendo of America president Reggie Fils-Aime is retiring. Reggie will be leaving the company in April, and will be replaced by Doug Bowser.
Just after the news broke, there was naturally a strong reaction. Xbox boss Phil Spencer, The Game Awards host Geoff Keighley, and plenty of developers shared their thoughts and thanked Reggie in response.
Here's a roundup of the notable responses we've come across:
All the best to Reggie Fils-Aime on the next phase of his life and career. Great leader, industry partner and friend.

— Phil Spencer (@XboxP3) February 21, 2019
Many of you know I am a huge fan of Nintendo (since a kid!). Over the last 15 years Reggie Fils-Aime has done a great job. I'm sad to see him retire, but also happy for him to spend more time with his family. Thank you for great entertainment. https://t.co/BJaHDdfSdx

— Mike Ybarra (@XboxQwik) February 21, 2019
Can't believe I'm writing this: Reggie Fils-Aime is retiring from Nintendo. One of our industry's finest leaders and a dear friend. He's always believed in me. Thank you Reggie.

— Geoff Keighley (@geoffkeighley) February 21, 2019
I spoke with Reggie today and let him know how much he means to me and the entire games industry. It was an emotional conversation. Reggie leaves Nintendo in one of its strongest positions in history. He will always have a front row seat at @thegameawards Thank you Reggie!

— Geoff Keighley (@geoffkeighley) February 21, 2019
https://twitter.com/corybarlog/status/1098664967606198272
One time I was backstage of an awards show about to present and Reggie looked at me and said, "You look uncomfortable."

I was.

I was uncomfortable.

Have fun in retirement Reggie! May you never be uncomfortable. pic.twitter.com/tcXs7OP4Pk

— Robert Bowling (@fourzerotwo) February 21, 2019
Thanks for everything, Reggie!

— Devolver Digital (@devolverdigital) February 21, 2019
Thank you for everything, Reggie! You helped shape the gaming community into something amazing! pic.twitter.com/e4r98qOeWw

— Skybound Games (@skyboundgames) February 21, 2019
Here's a picture of Reggie playing Super Meat Boy on Wii. He said "I'm buying this with my own Wii points, I'm serious guys". Pretty sure he ended up with it on WiiU and Switch. Happy retirement my dude! @NintendoAmerica pic.twitter.com/O3DaAc0WuY

— Team Meat (@SuperMeatBoy) February 21, 2019
Thank you, Reggie! We hope you keep on dancing, ten outta ten! pic.twitter.com/H4fgaS2pYa

— YO-KAI WATCH (@YokaiWatchNews) February 21, 2019
Thanks for everything Reggie, and congrats to @thetruebowser. We're all Nintendo fans ♥ https://t.co/KWRKVTDKyF

— Limited Run Games (@LimitedRunGames) February 21, 2019
Thank you Reggie!

— The Messenger (@messengergame) February 21, 2019
Thank you for the great work done!! All the best for the future!! https://t.co/rYN2nCVjl3

— Abylight Studios (@abylight) February 21, 2019
Watching Reggie's retirement speech and trying to keep it all together. WHAT A MAN! pic.twitter.com/jqT3rJfn6M

— Super Rare Games (@SuperRareGames) February 21, 2019
Thank you Reggie for this blessed moment. I will miss you deeply but I'm very happy to have this memory with you. May you enjoy your break to the fullest. Much love ❤️ pic.twitter.com/iwSTpIb0Bx

— Tempo ZeRo (@zerowondering) February 21, 2019
Leave a Reply