Xenoblade Chronicles 3 Collector's Edition extras won't ship until the fall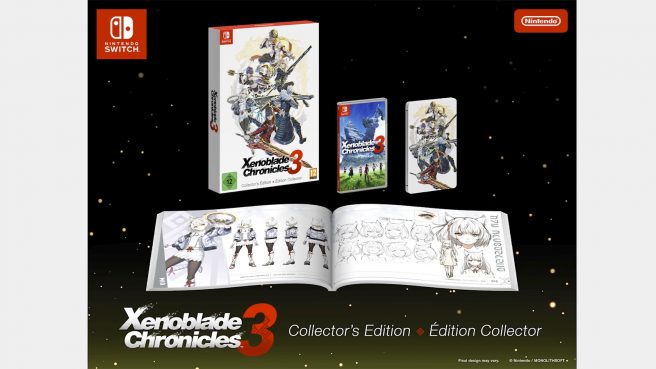 Original (5/15): According to the official UK My Nintendo Store site, the bonus items included with the Xenoblade Chronicles 3 Collector's Edition won't be arriving in Europe until this fall.
Nintendo intends to ship the game at release. However, all of the other extras will be provided separately later on. Thankfully, shipping will be free.
The Xenoblade Chronicles 3 Collector's Edition includes package artwork from Masatsugu Saito, a full-color concept art book with over 250 pages, and a steel case for the game card. Thus far pre-orders have yet to open.
It's worth noting that Nintendo already confirmed similar plans for the collector's edition in Japan. That means North America is the last remaining question mark. Right now there's a good chance of the collector's edition items shipping at a later date stateside as well. If that's the case, perhaps this is why Nintendo decided to sell the collector's edition through its online store rather than through typical retailers like Amazon.
Xenoblade Chronicles 3 launches for Switch on July 29, 2022. Let us know if you'll be trying to secure the RPG's collector's edition in the comments below.
---
Update (6/8): Unsurprisingly, it's now been confirmed that the Xenoblade Chronicles 3 Special Edition extras won't ship until the fall in North America. Fans will only receive the physical game first for the July 29 launch. The other items will be released separately later.
Leave a Reply