Yoshi's Woolly World – over 50 levels, story overview, more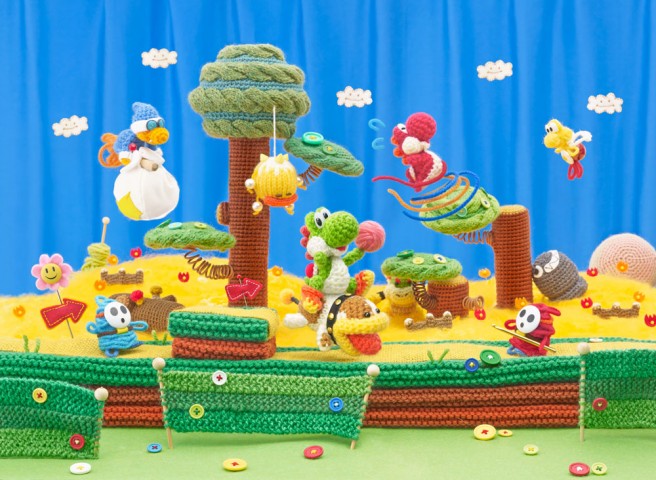 Nintendo passed along a handful of new details about Yoshi's Woolly World today.
First, we now know that the game features over 50 levels. Each one is sprinkled with "surprises and hidden collectibles."
Speaking of collectibles, there are a ton of them in Yoshi's Woolly World. Here's a recap of each:
– Hearts: restore Yoshi's life gauge
– Stamp Patches: unlock stamps for Miiverse
– Smiley Flowers: increase the chances of unlocking a bonus game
– Beads: can be saved up to purchase Power Badges between levels, which when activated allow – for example – Yoshi to unleash powered-up Ground Pounds, or even be able to play alongside woolly canine companion Poochy
– Wonder Wools: find all five in every level, unlock uniquely-patterned Yoshis (over 50); use one of these styles by visiting Yoshi Hut on Craft Island
Nintendo's official overview of the story in Yoshi's Woolly World is as follows:
Once upon a time in Craft Island, a paradise located in the middle of Handmade Ocean, the peaceful lives of different-patterned Yoshis are rudely disrupted by the dastardly Kamek, who has kidnapped Yoshis by turning them into balls of yarn using his magic. Having escaped the surprise attack by this notorious villain, Yoshi must set out on an adventure spanning various Worlds, with beautiful landscapes ranging from lush woolly meadows to fluffy mountain peaks. And at the end of it all…well, Yoshi might encounter an even fiercer villain behind this pesky plot…
Some levels in Yoshi's Woolly World will feature transformations. The character can turn into "a fast-swimming Mermaid Yoshi, a quick-firing Sky Pop Yoshi aeroplane, and even a Moto Yoshi, where Yoshi turns into a high-speed motorbike."
Yoshi's Woolly World launches in Europe on June 26, and this fall in North America.
Source: Nintendo PR
Leave a Reply