You Suck at Parking out on Switch in 2023, physical version happening, new trailer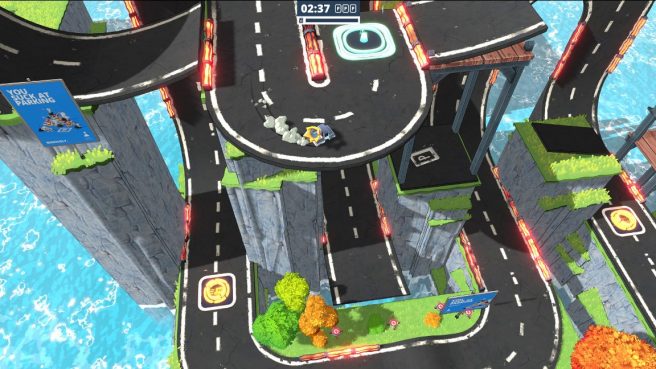 Happy Volcano has provided a release window update for You Suck at Parking, its new top-down racer. Although it will initially debut on September 1, the title won't be on Switch until 2023.
It's also been announced that FireShine Games is readying a physical version. Just like the digital release, it's planned for 2023.
Here's some information about You Suck at Parking:
Comprising both single-player and online multiplayer modes, You Suck at Parking is the world's most extreme parking experience and the only racing game where, uniquely, the goal is to come to a stop. Success is all about racing against the clock as players dash, drift, and drag their handbrakes as they slam into parking spots in quick time.

Developer Happy Volcano lifted the lid on the game's multiplayer mode – which will initially allow four players to take on each other in a full-on parking party – back in May, alongside the news that the top-down racer will feature 60 wild multiplayer levels and 100 solo levels with ever-increasing difficulty.

Excitingly, the multiplayer on offer will also be cross-platform, whilst Happy Volcano can also confirm it's the studio's intention to refresh the levels on offer in play every two weeks, with fresh ones delivered until…well, until the sun swallows the Earth.

Key Features

Speed through stages navigating obstacles aplenty before hitting the designated parking spots, all whilst somehow keeping cool, calm, and collected in the process.
Unlock Parking Tokens with their parking skills that serve up new customization options to pimp your ride with.
Climb the global leaderboards and prove to your friends that you truly do have the power to stop. Maybe not the world, but a car, at least.
Experience an ever-growing, always-expanding, forever-changing game, where more cars, more biomes, more tracks, and more customisation options are regularly added to the roster.
We also have a new trailer below.
You Suck at Parking will cost $19.99 / €19.99 / £15.49 on the Switch eShop. Pricing for the physical edition has not yet been announced.
Source: Happy Volcano PR
Leave a Reply