A look into the sales of indie games on Wii U and 3DS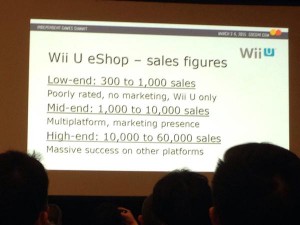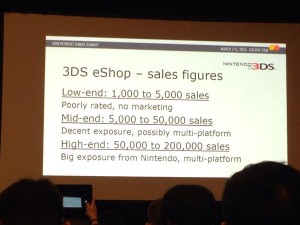 tinyBuild's Mike Rose held a panel at GDC 2015 today titled "The Turning Tide: Independent Game Sales in 2015". During the session, Rose touched on the performance of indie titles across a variety of platforms, including the eShop.
On Wii U, it seems that the lowest number developers can expect lies between 300 and 1,000 units. This would be a game that receives poor reviews, lacks marketing, or is exclusive to the platform. The best-case scenario allows games to see sales at around 60,000 copies, with most revenue coming from other platforms.
The situation is apparently much brighter on 3DS. The low-end of the spectrum falls between 1,000 and 5,000 units (poorly rated, no marketing), while the high-end is 50,000 to 200,000 copies (big exposure from Nintendo, multi-platform).
Rose also mentioned in his same talk that developers who ported their games to 3DS and received Japanese localization saw sales that exceeded expectations. Those who ported titles to Wii U via Unity felt it was worth it since the process was relatively easy.
Leave a Reply