Azure Striker Gunvolt: Striker Pack – boxart, update on possible European release, more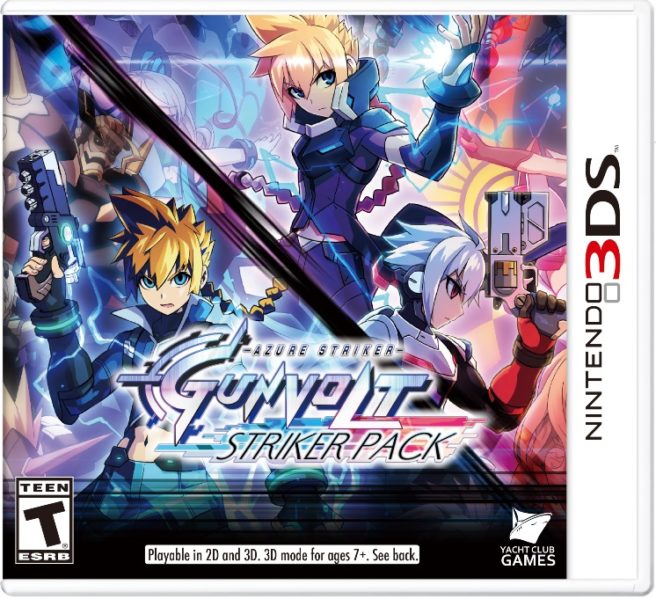 Azure Striker Gunvolt: Striker Pack publisher Yacht Club Games put up an official post with a little more information on the upcoming physical 3DS release.
First, let's get a few key things out of the way. The boxart is attached above. To reiterate, you'll be able to pick up the dual package on September 30 for $29.99.
And the trailer:
Azure Striker Gunvolt: Striker Pack is still technically just confirmed for North America even though it's been rated in Australia. Regarding Europe, Yacht Club said to "stay tuned", and added: "We're highly encouraging Inti Creates to make a retail release a reality in Europe as well. So be sure to tell them you think the same!"
Lastly, Yacht Club wrote the following about publishing:
A real bolt from the blue, right!? When we said we were a publisher last year, we bet you didn't expect that we'd be publishing other companies' games! Neither did we! Honestly, we never thought we'd be jumping further into the realm of publishing. However, Inti Creates saw Shovel Knight's physical release and reached out to us to see if we'd be interesting in doing the same for Gunvolt. We couldn't say no…we love the games they make! Heck, Mega Man 9 was one of our biggest inspirations for Shovel Knight! We were so impressed by the latest Gunvolt 2 as well! The new high-flying playable character Copen is a real blast to play.

So yes, the Yacht Club Games crew has joined the world of physical publishing. Once again, we're getting a big helping hand from our distributor U&I Entertainment who will be shipping the game out to stores for us. We couldn't be more honored to join forces with Inti Creates and bring their signature style of action games to players everywhere. As always, we take on surprises like this because of our passion and excitement to see it happen…it's all about bringing everyone more rad games! We hope everyone who loved Shovel Knight and is interested in a big leap from 8-bit will give Gunvolt a try. We think you'll all love all the awesome 2D platforming excitement.

This is a new adventure for us, and we couldn't be more grateful to have all of you, the talented team at Inti Creates, and the amazing team at U&I at our backs to help us bring more 2D action games to store shelves!
Leave a Reply