Dandara launches February 6 on Switch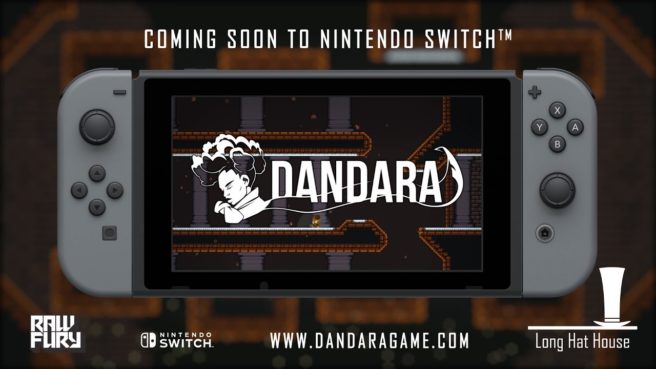 Thanks to a listing on the European eShop, we have a final release date for Dandara for Switch. Raw Fury previously confirmed that the game would be out sometime next month. According to the new listing, it's scheduled for February 6.
Dandara was featured during the first Nindies Showcase nearly a year ago. It's a new Metroidvania 2D platformer that's "full of mystical creatures and boundless exploration."
We have more information about Dandara below, along with the original Switch announcement video.
The world of Salt hangs on the brink of collapse. The citizens, once free spirits, now stand oppressed and isolated. But not all is lost, for out of this aether of fear arises a heroine, a ray of hope. Her name is Dandara.

Welcome to a unique 2D metroidvania platformer full of mystical creatures and boundless exploration. Defy gravity as you jump across floors, walls, and ceilings alike. Discover the mysteries and secrets hidden throughout the world of Salt and its diverse array of characters. Empower Dandara for combat and survival against enemies bent on oppression.

Awaken, Dandara, to bring freedom and balance to this directionless world.

– Innovative controls – Built natively for both touch screen and gamepad input, movement and combat interact smoothly and seamlessly.

– Boundless exploration – Traverse across the esoteric world of Salt through fast and fluid jumps off any surface, unhindered by gravity, in lovingly crafted environments.

– Challenging progression – Use a combination of speed & skill, wits & reflexes, to solve puzzles, earn powerups, and access areas previously unreachable.

– Beautiful and immersive world – A visual and auditory wonderland comes to life through gorgeous handcrafted pixel art and original soundtrack compositions.
Source: Switch eShop
Leave a Reply