Japanese retailer expects big sales for Smash Bros. 3DS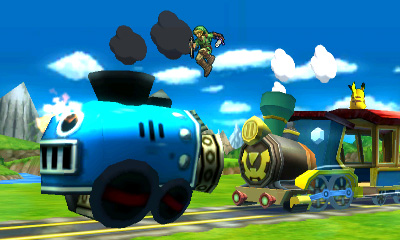 Japanese volume retailer Tsutaya is expecting big things out of Super Smash Bros. for 3DS when the game launches in Japan next month.
Taketo Matsuo, who is the group leader of Tsutaya Game Recycle Plan, has used his experience to make rankings for the expected hit games of September. Tsutaya is known for such analyses.
Mantanweb, who reported on the rankings for September, notes that Smash Bros. 3DS comes from a hit series and it won't feel out of place on the handheld. Since it is a game that benefits from having large screens, there may also be an increased demand for the 3DS XL as consumers may want to upgrade their original 3DS models.
Super Smash Bros. for 3DS is a title that players from children to core gamers can enjoy. Data gathered from pre-orders confirms that it is a game that appeals to all age groups as well. The anticipation for the game is quite high, so there is a thought that it may even break the series' sales records
For September, it should come as no surprise that Tsutaya is predicting Smash Bros. 3DS to be the top-selling title. Below are the full hit predictions:
1. [3DS] Super Smash Bros.
2. [PS3] Naruto Shippuden: Ultimate Ninja Storm Revolution
3. [PS4] Destiny
4. [PSV] Toukiden Extreme
5. [3DS] Youkai Watch 2 Honke
6. [PS3] Destiny
7. [PSV] The Legend of Heroes: Sen no Kiseki II
8. [3DS] Youkai Watch 2 Ganso
9. [PSV] Danganronpa: Another Episode
10. [3DS] Dragon Quest X
Leave a Reply